I think it is very important that my children read good literature, but I also like to guard their hearts. We have been using Lighting Lit & Comp from Hewitt homeschooling and one thing I liked about them before I even opened the curriculum is that the books with mild swearing is noted in their course description. It is also included in the teacher's manual at the beginning of that lesson.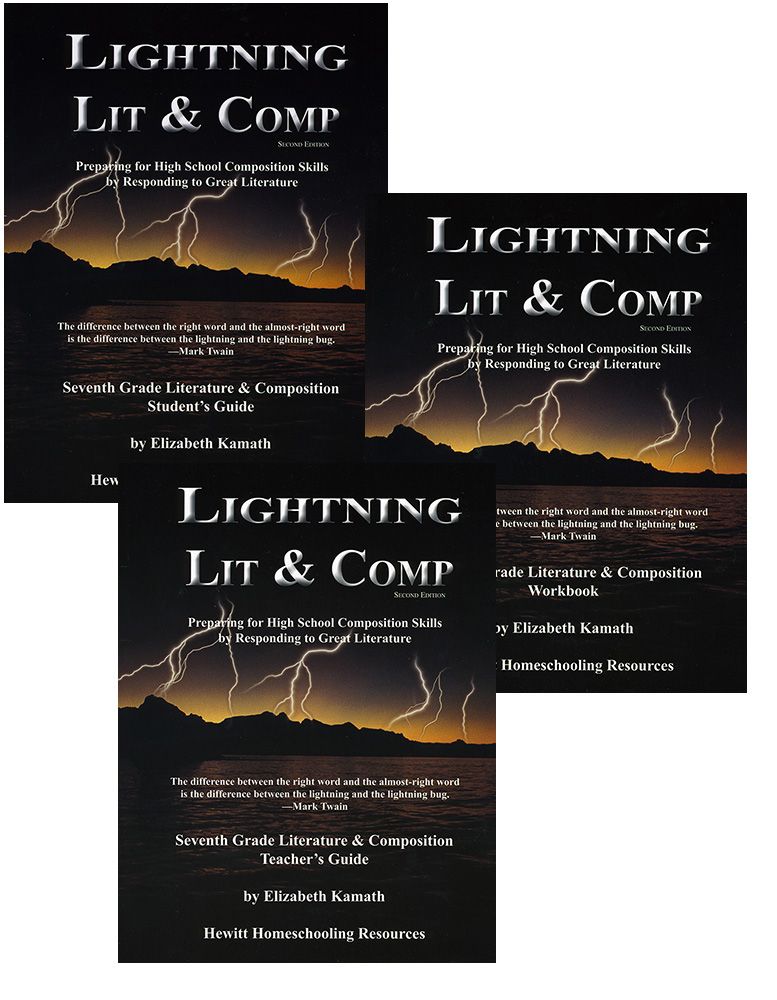 Hewitt offers a balanced, flexible and complete approach to homeschooling by......
Balancing character, academics, work, and service
Encouraging homes school, not school at home
Personalizing your home education
Offering services and products that develop a mind for a lifetime of use.
The
Lightning Lit & Comp for seventh grade
comes with a Teacher's Guide, Student Guide, and Workbook. They can be purchased separately for $20.00 each or you can buy all three guides along with the books that are used within the curriculum for $91.73.
The 110 page

Teacher's Guide

explains how to use this curriculum along with the importance of reading and writing. There is also a weekly planning schedule for the whole year.
The

Student Guide

is 162 pages. Each chapter uses the same format.

The Introduction gives the student information about the author of each book.
While You Read is a brief paragraph containing questions or things to look for while the student is reading.
Vocabulary List
Comprehension Questions
Literary Lesson talks about plots, poetry & rhyme, creativity, dialogue, autobiography, and character sketch.
Mini-Lesson covers alternate openings, outlines, different types of poems, brain storming, choosing a topic, and nonce words.
Writing Exercises

The 162 page

Student Workbook

is full of activities. There are puzzles, storyboards, matching definitions, outlines, using note cards, grammar worksheets, and writing activities.
Literature used with the curriculum:
The Adventures of Tom Sawyer by Mark Twain
Alice's Adventures in Wonderland by Lewis Carroll
The Story of My Life by Helen Keller
All Creatures Great and Small by James Herriot
Stories and Poems for Extremely Intelligent Children
I love the way these books are set up. The vocabulary & composition questions are arranged according to the chapter of each book. This makes vocabulary words very easy to assign. The workbook exercises do a great job in preparing the students for the writing assignments. The Teacher's Guide is so nice.....the answers to the worksheets are at the end of each chapter. It may be a trivial thing to some people but I don't like flipping to the back of the book to look for answers.
We haven't got to All Creatures Great and Small and I have never read it, but it is noted at the beginning of that chapter that there is some mild swear words. They also suggest that you preread it to eliminate those sections or talk about it with your child. Thanks Hewitt for the warning.
This curriculum starts out with one of my favorite short stories Rikki-Tikki-Tavi. I think this is a very good book to start with because it is very easy to see and graph the plot & Hewitt did a great job at explaining it. Amber (age 11) has been using this curriculum but I also included the other girls in on some of the discussions of plots & plot lines. I read Rikki-Tikki-Tavi out loud and even Alaina (age 7) could understand the Action & Climax. The introduction and chapter 1 for Rikki-Tikki-Tavi is scheduled to last a little over 2 weeks and the longer books last several weeks. This is a full year curriculum and we are looking forward to finishing it.
Members of the Schoolhouse Review Crew reviewed products for every grade from Hewitt Homeschooling. Sail over to the
Crew Blog
to read about them all.

Disclaimer: As a member of the Schoolhouse Review Crew I received 7th Grade Lightning Lit & Comp free of charge to use in our school in exchange for my honest review.