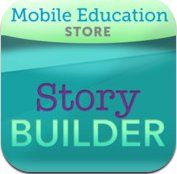 Each of my girls got an iPod Touch for Christmas last year & they love apps. They have all kinds of game apps to play, but I am always on the lookout for apps that they can actually benefit from rather than just for entertainment. Our latest app is from the Mobile Education Store and it is called
Story Builder
.
Story Builder is designed to help children improve the formation of a paragraph, improve integration of ideas, and improve higher levels of abstractions by inference. The use of audio clips helps improve auditory procession for special needs children.
There are 3 levels of play in Story Builder.
Level 1 will ask 4 questions relating to a picture.
Level 2 will ask 7 questions and the student will have to make inferences about what happened before and what will happen after the picture.
Level 3 allows the student to make up any story for the picture.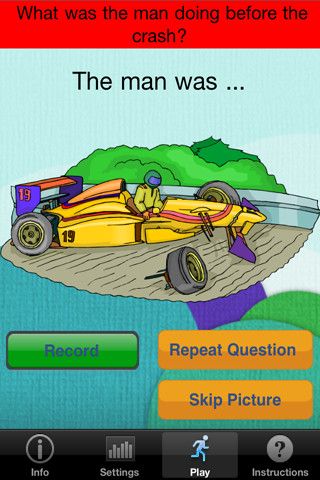 When you start to play you will see a picture, and a question about the picture will be read to you. You can then press
record
to speak your answer into the device. If you need to hear the question again just click
repeat question
. You may listen to your answer and if you are not happy with it you can press
record
again to change it. Once all of your questions have been answered you can listen to the story by pressing
play story
. After listening to the story you have the option emailing it to your friends & family.
Under settings you can change the
color display
and
question display
. When they are turned
on
the background of the question will be red and the question will remain on the screen while the child answers. Intermittent means the question is red & shows up while it is being read but will go away while the child is answering. When they are turned off the background remains the same color and the question is only read to the child & not seen. If the
Answer Introduction Reinforcement
is turned on the first couple of words to an answer sentence will appear after the question is asked. If it is turned off there will not be any words to help the student.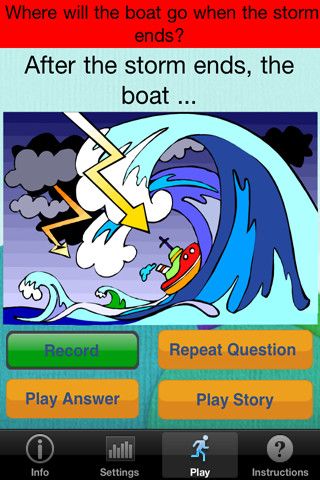 I added Story Builder to all 3 of my girls iPods and my iPhone. Amber (age11), Delaney (age10), and Alaina (age 7) used the app. They all three thought it was really fun to listen to themselves tell the story. The questions that are asked about the picture really get the kids thinking about what is going on, what has happened before, and what will happen next. My girls all like to write stories and this app has helped them in different areas. It has helped Alaina to pick out details for her paragraphs & stories on the app & the ones she writes. It has helped Amber & Delaney think about what is going to happen in the rest of their paragraphs and stories. We emailed a story to ourselves but we got an error saying we didn't have a program associated with this. We could see the picture but could not hear the audio.
I think this app would be wonderful for a child who struggles with picking out details in their writing. A child that needs to work on pronouncing their words correctly could also benefit greatly because they can record their answers and listen to them right away then record them again if they need to.
Story Builder is available for
$5.99
and can be used on the iPod touch & iPhone. Check out other requirements
here
.
Members of the Review Crew who have an iPad received the
Rainbow Sentences App
to review. Sail over to the
Crew blog
to read more reviews on Story Builder & Rainbow Sentences.

Disclaimer: As a member of the Homeschool Review Crew I received the Story Builder App free of charge to use with my children in exchange for my honest review.