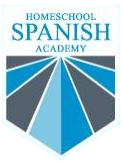 Amber & Delaney both have iPods and their favorite app is iTranslate. They will spend hours looking up words to write out stories & plays. So they were overly excited when they heard we were going to review
Homeschool Spanish Academy
. At first I thought I would have to pick one student for the program but during our trial call I was informed I could have 2 students as long as they weren't more than three grades apart. So I had 2 very happy girls.
Homeschool Spanish Academy is interactive immersive lessons with 1-on-1 instructions from native Spanish-speaking professional instructors. By using Skype video conferencing young children through adults can learn to speak Spanish.
When we first signed up we had a Skype call from Tech support just to make sure our computer & internet could handle the Skype feed. During the initial call our video was a little delayed but it did not interrupt the sound or flow of the call. The first session is
free
if you would like to try it out, then we had 7 weeks of class.
When you first sign up you can choose your instructor, we didn't have a preference so we just choose any. We were assigned Rosa Menchú and my girls liked her & felt very comfortable with her so we chose her every time. Homeschool Spanish Academy uses
Schedulicity
to schedule the classes. It was very easy to use. After you login you can select your teacher & date and then you can see all the times the teacher has open and you can choose one that will work for you. A confirmation email is sent & then a reminder email is sent the day before the class.
Since Amber (age 11) & Delaney (age 10) didn't know much Spanish we chose to use the
early language program
. During the free session Rosa asked my girls about the Spanish they already knew. They only knew some greetings, count to 10, and a few other random words. Rosa started them with family words. While she talked about the Spanish words for members of the family she asked the girls questions about our family. She made notes about the names & ages of each family member so she could personalize the Spanish lesson with people the girls know. While we worked on older & younger, fruits, colors, days, months, and numbers she could ask the girls how old everyone is & what their favorite color & birthdays are. Rosa would speak Spanish to the girls & they would answer her in Spanish unless they didn't have a clue what she said and then she would prompt them in English.
While we were on the Skype video Rosa would put up a worksheet to show the pictures, words, sentences, etc. that the girls were learning or reviewing. She would also send us an email with the worksheets & quizes that they needed to complete. We added our worksheets to our Kindle Fire to review & they looked great on there. During the sessions Rosa would have them answer together & sometimes she would have them answer separately.
There are several different pricing options. You can choose
early language
,
middle school
,
high school
or
adult program
. Each group has 4 levels with each level having 2 sub-levels. Within each sub-level there are 14 classes, at least 5 quizzes, and at least 4 exams. The classes can be used with one student or two as long as they are within 3 grade levels of each other. The classes can be different for every student. Rosa started my girls where she thought they needed to be in the class but I noticed she went back to a lower lesson to cover something my girls were missing.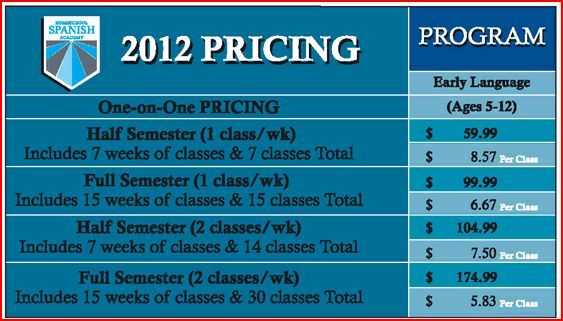 Pricing for Early Elementary 1-on-1 & 2-on-1.
We all loved this program!! My girls started exactly where they needed to be & worked at a pace that was perfect for them. Rosa was a very good teacher. She was patient with my girls & gently corrected and prompted them when needed. Amber & Delaney both felt very comfortable with her even though they were nervous at their first session. The conversational way of our class made it easy for my girls to practice & remember what was being taught. It really helped that they could work on this together because it was easier for them to practice.

Disclaimer: As a member of the Homeschool Review Crew, I received 7 free sessions of Homeschool Spanish Academy, to use with my children, in exchange for my honest review.