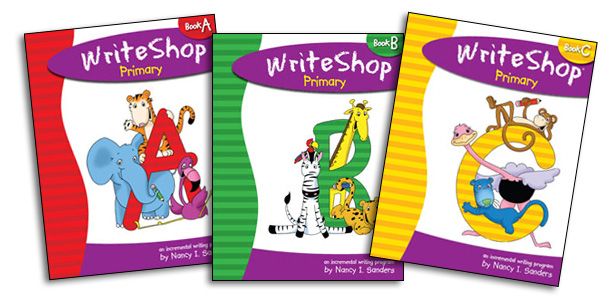 As soon as I told Alaina about WriteShop she couldn't wait for it to get here. Every day she would ask me if they had emailed yet. I'm not sure if she was more excited because she loves to write & this review item was all hers, or if she liked the cover & she knew since it was an e-book it would probably have the cover in black & white so she could color it.
WriteShop offered Homeschool Crew members WriteShop Primary Book A, B, C, & Junior D. I chose Primary Book B to use with Alaina since she is in the second grade. Make sure you stop by the
Homeschool Crew Blog
to read about all 4 books. If you would like to know which book to choose for you child you can get placement help
here.
WriteShop Primary is designed for the parent to work closely with their K-3 grade child. It is not meant to be a rigorous writing program, it is an introduction to writing skills using activities, crafts, & picture books.
I received WriteShop Primary Book B Teacher's Guide and the Activity Set Worksheet Pack as an e-book.
The
Activity Set Worksheet Pack e-book
has 20 worksheets that correspond with each lesson. You will need to purchase this to teach the program. Along with the activity sheets there are pages to practice handwriting & spelling. There is also 2 Evaluation Charts to track you child's progress.
The
Teacher's Guide
e-book contains an introduction, 10 lessons, answer key, and a resource section. All of these sections are in their own sub book within the same pdf file. The introduction talks about WriteShop, gives sample lesson plans using just one level of WriteShop or multiple levels with more children. It discusses how each lesson is designed to work with the brainstorming, pre-writing activities, writing activities, worksheets & hands-on projects. A sample of chapter 2 can bee seen
here
.
Lesson 1: Writing a Letter ~Theme: Grandparents
Lesson 2: Standard Spelling ~Theme: Planets and Space
Lesson 3: Acrostics ~Theme: Holidays
Lesson 4: Poems and Nursery Rhymes ~Theme: Nursery Rhymes
Lesson 5: Fairy Tales ~Theme: Fairy Tales
Lesson 6: In the News~ Theme: Neighborhood and Community
Lesson 7: Humor ~Theme: Dinosaurs
Lesson 8: Problem Solving ~ Theme: Ocean Animals
Lesson 9: Character and Setting ~ Theme: Animal Homes
Lesson 10: Story Organizers ~Theme: Community Helpers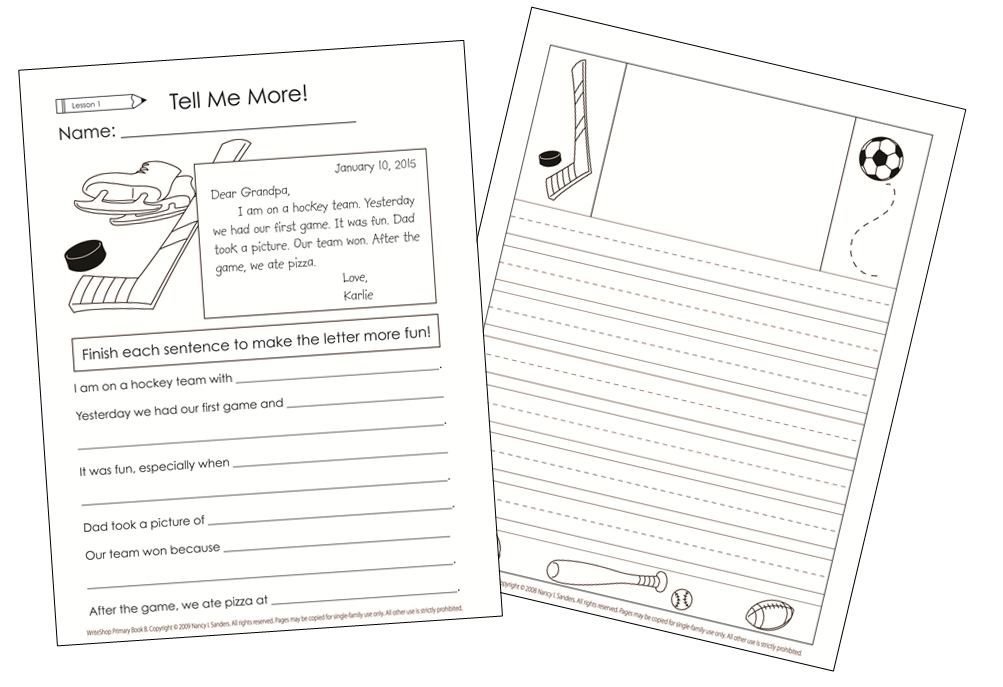 Within the teacher guide there are suggested topics to get your child thinking and even an example of how your conversation might go. Ideas to help reluctant and advanced learners are included. Each lesson has the same basic plan.
Activity Set 1: Guided Writing Practice only
Activity Set 2: Pre-writing Activities and Picture Book
Activity Set 3: Brainstorming
Activity Set 4: The Writing Project
Activity Set 5: Editing and Revising
Activity Set 6: Activity Set Worksheet
Activity Set 7: Publishing the Project
Activity Set 8: Want To Do More?
The appendix is a great resource that includes age appropriate picture book lists, format for a writing a friendly letter, lap book ideas, tools & supplies needed for each lesson.
The first thing I did was print off the cover of the book for Alaina. She colored it while I was looking over the teacher's manual. At first I was a little confused with the Teacher's Guide and I almost printed it out. Once I understood how it was set up I liked having it on my laptop & it can be used with an iPad. I really like that each section is individual, it was easier to remember what page we were on & if I needed to reread anything in the introduction I could find it easily.
Alaina loves this program. She loves to color and she has been writing neater on the worksheets that have a picture on the top because she wants it to all look nice. The activities make it very clear how the writing process is taking place. The star below has helped put & keep her thoughts in order. She would put her topic in the center & then she would write details on the star points. She really enjoys writing but before we started this program her mind would go faster then her writing so her story would become off topic or jumbled.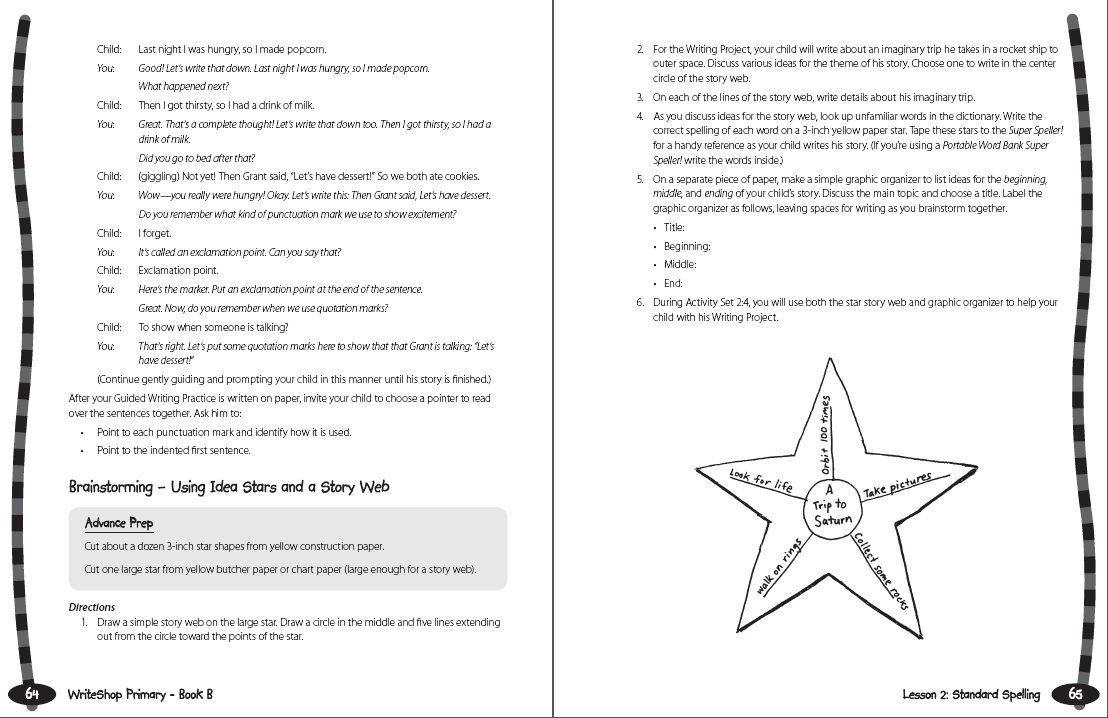 Alaina's favorite part of WriteShop is creating a rhyming word garden. She needs to work on her spelling but she gets the idea that rhyme belongs on this flower.
(I'm not sure why my picture is sideways!)
This writing program takes a little bit of teacher prep time but I think it could benefit any child. It makes learning the writing process enjoyable.

WriteShop Primary Book B print edition is available for
$29.95
, the e-book is
$26.95
. The Activity Set Worksheet Pack print edition is
$4.95
, and the e-book is
$4.50
.
Promotional Code
Write Shop gave the Homeschool Crew a promotional code for 15% off any WriteShop Primary and Junior products (including e-books) in their
store
. Just use
CREW15
during checkout by June 15, 2012.

Disclaimer: As a member of the Homeschool Crew I received the e-book WriteShop Primary B free of charge to use with my children in exchange for my honest review.