Recently I ran into a homeschool mom who wanted to change the way they learned History. I was telling her about learning with living books & notebooking but she felt overwhelmed with finding the books that covered different time periods. Heritage-History immediately came to my mind because it comes with the electronic books that are recommended in this curriculum.
Heritage-History is classical curriculum that uses living books that were originally published over a century ago. This program was designed to be a self-paced "living book" study program but it can be used to supplement any other history curriculum. The Curriculum CDs include study aids, timelines, historical maps, and era summaries. The book titles include biographies, legends, hero stories, historical literature, and comprehensive histories.
Members of the Homeschool Crew were offered
Ancient Greece
,
Ancient Rome
,
British-Middle Ages,
British Empire -Modern
, and
Young Readers
. We all received a CD with all the books and a Study Guide. Each curriculum CD from Heritage-History is
$24.99
or you can purchase all 5 titles for
$99.00.
We received the
British Empire
collection and it covers the history of the British Empire, from the earliest days of the Hanoverian dynasty to the turmoil of the First World War. It tells stories of the rise of British rule in Indian and Asia, the conflict with the French in America, the exploration and colonization of Africa, the opening of trade with China and Japan, and the discovery and settlement of Australia and New Zealand. Most regional histories cover pre-colonial history as well as history under British rule, so the collection provides a fairly thorough overview of world history with an emphasis on the colonial era.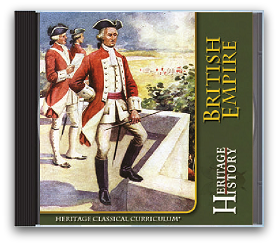 The British Empire Curriculum CD comes with 57 books, over 50 maps, timelines, battle dictionaries, reading recommendations, geography terms, short biographies, historical era summaries, and a Study Guide.
The study guide starts out with an overview of what is going on in a specific time in history. Next there is a timeline of people and events, and a chronological lists of characters & wars. The recommended reading list gives you the title, author, the number & title of chapters that go with the time frame being studied. Colored and blank maps are also included. There are accountability forms so you & your child can keep track of the reading assignments. This curriculum works great with notebook & lapbook style learning.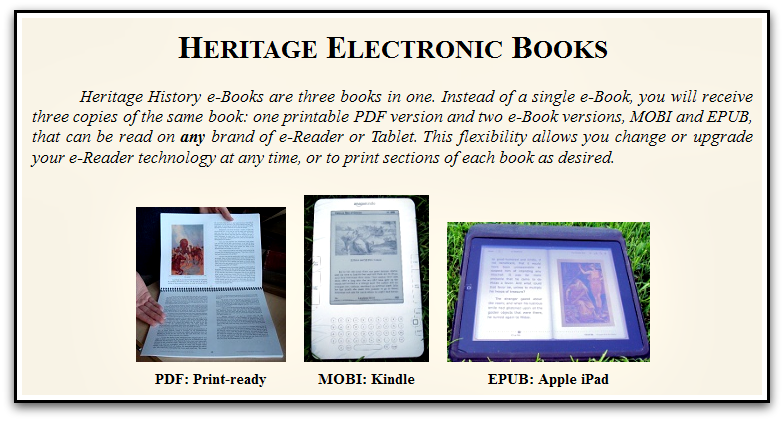 The living books that are included with the Heritage-History Curriculum are all older books and they are
color coded
on the back of the CD & on the website to distinguish between beginning, intermediate, and advanced reading levels. This makes it very easy to choose what books your child should read.
I used this with our regular style of notebooking and with all three of the girls ages 7, 10, & 11. I loaded the electronic books onto our Kindles & they look great on both the Kindle Fire & the original Kindle. My girls also have a Kindle app on their iPods and the books look great there too although we prefer to use the Kindles because they are bigger. We love the quality of books that are included so much that we purchased the Young Readers & Early America CDs. I am thinking about ordering some more during their spring sale.
Heritage-History is having a
Spring Sale
right now. You can purchase any 2 curriculum CDs and get the 3rd on FREE!
Sail over to the
TOS Crew Blog
to read about other time period curriculum from Heritage History.

Disclaimer: As a member of the TOS Crew, I received Heritage History Curriculum, free of charge, to use with my children in exchange for my honest review.