Drilling math facts is not my girls favorite thing to do. It isn't because they have trouble with them I think it is because they are never in a big hurry and setting a timer makes them think they have to go as fast as they can, or sometimes it is because in the middle of a speed drill they will think of something that they have talk about before they forget it. The last couple of weeks we have been using CapJaxMathFax for our drills.
CapJaxMathFax
is a computer program that will help your children master their math facts. The child only has to spend a few minutes a day to obtain mastery in a few months. For the last 10 years Jack Fretwell has been the head of this program. He has a masters degree in Educational Technology and has spent 30 years in education and technology.
Students can work on different levels of each set of facts (+, -, x, ÷) separately or together. The number of problems per session can be changed as well as the the Super Seconds time. There is a keyboard practice mode where you can work on how to use the keyboard, a practice mode to practice your math facts, and when your student can answer the facts in 3 seconds they can move on to play for a rating. When the problems are answered in 3 seconds or less and you get 100% Super you are ready for the next level. The Summary, & the Progress Graph will help you keep track of what your student is accomplishing.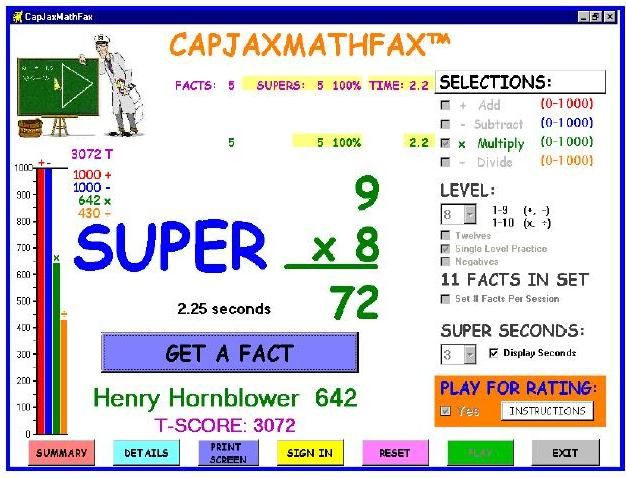 I have been using CapJaxMathFax with Amber (age 11), Delaney (age 9), and Alaina (age 7). Amber & Alaina both didn't mind working on CapJaxMathFax but Delaney does not really like working on the computer so she didn't really care for this type of drill. All three of the girls like that after each problem you have to hit enter before you get your new math fact. They are not as familiar with using the numbers on the computer so this allowed some extra time to be ready for the next problem. I love that the problem is corrected immediately, this gives them the chance to get it right the next time it is asked. As with paper speed drills if my child didn't know the answer they would answer it wrong on the entire page.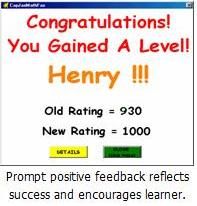 CapJackMathFax can be used with any student learning their math facts or students that need to increase their speed. It can be
purchased
as a download for windows or mac for $29.95, a shipped CD can be obtained for an additional $5.95.
There is a
Free Evaluation
if you would like to see if this program is right for your family.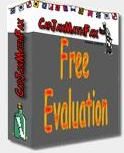 Sail over to the
Crew Blog
and see what other homeschool families thought of CapJaxMathFax.

Disclaimer: As a member of the Homeschool Crew I received CapJaxMathFax free of charge for 8 months to use with my children in exchange for my honest review.