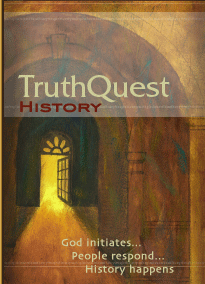 I hated history when I was in school but now it is my favorite subjects and my girls love it too. I think the difference is because we use real books to study our history instead of a textbook. We are also very flexible in what we are learning and how long we spend on each time period. There have been people and events that we have wanted to learn more about & there have been some that we just wanted to hurry through. When the TOS Crew was offered study guides from
TruthQuest History
I knew it would fit right in with us and we all love it.
TruthQuest History is a literature based history study that teaches the lovestory of mankind. You will focus on God's unchanging existence, power, love, truth, and plan for civilization. God is the prime force of the universe and you will have convincing proof of His reality and the superiority of His truths through the
Big 2 Beliefs (Who is God, and who, then, is mankind?).
History is about God first and then about the people and how they respond.
The 8 chronological history guides introduce each new topic with a commentary to address the issues before engaging in the "living books". Along with the topic-specific books each guide refers to books in three types:
Spines~ offer thorough, narrative coverage of this era's history and can be used with, or instead of the topic books.
Insight~ books that explore key issues/events which expose spiritual truths.
Snapshot~ books which give a quick peek at an era.
ThinkWrite
exercises are located throughout the guides to help your kids think deeply and focus their seeking and synthesizing. There isn't any worksheets, memorizing dates, or writing out answers to multiple questions. You can just enjoy and discuss great living books. If you think you need more TruthQuest suggests gathering as a family or with other families to give oral reports, put on skits, eat historical food, publish a newspaper, sculpt, or build with legos. TruthQuest also offers a
Map/Timeline/Report Package
and
Notebook pages
from
A Journey Through Learning
.
The Crew was offered several different TruthQuest History study guides. We received a PDF of
Age of Revolution I: America/Europe, 1600-1800
. This study guide can be purchased for $29.95 or the PDF can be purchased for $24.95. It is recommended for grades 5-8, you can see the complete
table of contents
, and view a
sample
of this guide.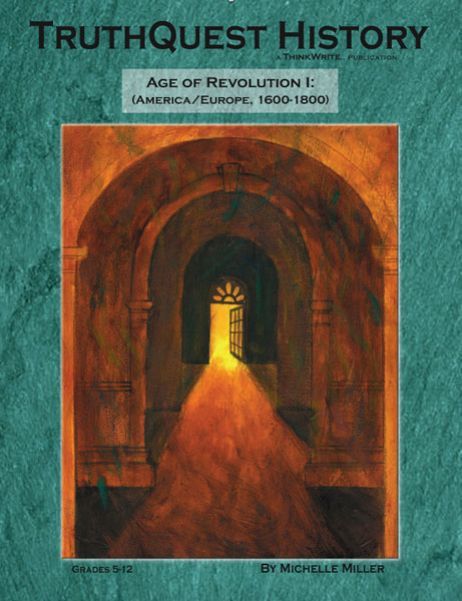 I used the study guide with all three of my girls ages 7, 9, & 11. They are big into Indians right now so we started the guide in section
#5 Jamestown.
We have 8 filled bookshelves in our house and Kindles with a large selection of books so we already own several that are listed in the study guide. We also went to our local library to see what we could find off the list. There were quite a few that they did not have but since we found others on the same topic we grabbed some of them. We ended up with books from several different reading levels. I chose the ones I wanted to read aloud & then the girls chose some on about the same topic to read on their own. Then we would discuss what we had learned. My girls are very detailed and they want to make sure I have all the new facts they have learned. They also like to become the people we have been reading about sometimes they will keep the role playing going for days and will even assign me a person and tell me what I should say.
I really like that study guide is so flexible. You can use any book that goes with the topic because there isn't a set book to use as the core. The reading suggestions for each topic is very extensive and you can choose what and how many you would like to read. This has put some order into our history read alouds. I will definitely be ordering more TruthQuest guides in the future. I think I will order the printed book instead of the PDF, for just a couple of dollars more the book would be cheaper than ink to print it.
Michelle Miller
Bachelor of Arts
summa cum laude

Michelle is a veteran homeschooler, author, columnist, speaker, consultant, and the founder/operator of a large library used by area homeschooled youth. TruthQuest History was born from her own yearning to teach deep truth through history to her children, and from her work with the many families who learn through her library. Michelle and her husband, John, have four children: two adult sons and two youngsters still at home in Michigan; they also have five cute grandsons!
Members of the TOS Crew received several different time periods from TruthQuest History. Sail over to the
TOS Blog
to read what others thought about their product.

Disclaimer: As a member of the TOS Crew I received Age of Revolution I PDF from TruthQuest History free of charge to use with my children in exchange for my honest review.