My girls love science experiments but I have to admit that there are some weeks we don't have time to fit them in. Sometimes it isn't really getting everything ready it is because I need to figure out the how and why it works so I can explain it to them. The last couple of weeks we have been doing a lot of experiments using the new
Amazing Science! DVDs
from
Science and Math.com
.
Amazing Science! teaches fundamental principles of science through experiments. Every demonstration gives a complete list of materials and is viewed from multiple camera views. Every concept is explained in a step-by-step fashion making it easy to understand the science behind the experiment.
Amazing Science! volume one contains 23 experiments on
2 DVDs for $19.95
.
| | |
| --- | --- |
| Disk 1 | Disk 2 |
| 1) Color Changing Milk | 13) Floating Eggs |
| 2) Egg in a Bottle | 14) Keep Paper Dry Underwater |
| 3) Exploring Air Pressure | 15) Dry Ice Bubbles |
| 4) Build a Lemon Battery | 16) Balloon in a Candle Flame |
| 5) Inverted Cup of Water | 17) Ocean in a Bottle |
| 6) Candle Suction Power | 18) Build a Motor with Lights |
| 7) Amazing Magnetic Force | 19) Simple Lava Lamp |
| 8) Lift an Ice Cube with String | 20) Invisible Ink |
| 9) Unburnable Money | 21) Density Tower |
| 10) Matchstick Speedboat | 22) Soda Can Fizz |
| 11) Reversing an Image with Water | 23) Build a Motor #2 |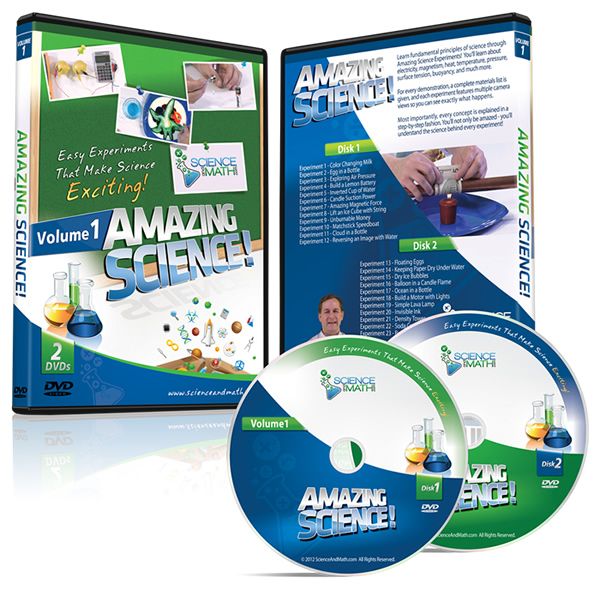 I watched the experiments with all three of my girls ages 7, 9, & 11. Jason Gibson does an excellent job in his presentation. There is a list of items needed at the beginning of each experiment and Jason explains exactly how and why the experiment works. We all learned from his teachings and even my 7 year old comprehended what was going on. We completed almost all of the experiments but of course my girls had a few favorites: Coloring Changing Milk, Lift an Ice Cube with String, Ocean in a Bottle, & Surface Tension of Water. Everyone who came over had to see how Amber could lift an ice cube with a string.
Surface Tension of Water
Science and Math.com offers quality science experiments and math tutorial courses! They believe that Math is a tool to explore our world and that all people, young or old, are fascinated by Science.
They aim to bring the very best Science and Math videos to tickle your curiosity and entice you to want to learn more about the world around you.



Jason Gibson has earned advanced degrees in Engineering and Physics, worked as a Rocket Scientist for NASA, and has a passion for teaching Science and Math.

Sail over to the
TOS Crew Blog
to read what other families thought of Amazing Science.

Disclaimer: As a member of the TOS Crew I received Amazing Science! DVDs free of charge to use in our homeschool in exchange for my honest review.