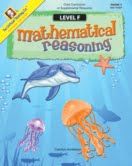 In our homeschool we like to work on our deductive thinking skills by using
Mind Benders
from The Critical Thinking Company. Actually we like using Mind Benders because we think they are fun!! I guess that means we are improving our thinking while we are playing!! When I was offered
Mathematical Reasoning
from the same company I jumped at the chance.
We received
Mathematical Reasoning
Level F for 5th grade. Our first response to seeing this book was WOW! This 440 page book covers so much information and the pages are full of color and illustrations. It says it can be used as a Core Curriculum or a Supplemental Resource and it is very easy to teach either way. It covers Numbers & Operations, Algebra, Geometry, Measurement, and Data Analysis & Probability. Each section introduces a topic and is followed by appropriate practice and application. The teacher can learn right along with the student.
Level F is recommended for the 5th grade but upon completing the book your student will know some 6th grade skills. The activities are written to the standards of the National Council of Teachers of Mathematics. It can be
purchased
for $42.99 but it is on sale right now for $37.99.
View
samples
of Mathematical Reasoning workbook & Table of Contents.
I used this book with Amber (age 11) and Delaney (age 9). Delaney started at the front of the book and is working her way through it but with Amber we picked topics that she needs to work on. They both like that between all the Number & Operations lessons there are lessons on temperature, balance, graphs, and measurement. We really liked that the story problems and situations are all things that the girls can relate to. Math is not the favorite subject at our house but both of my girls liked this book. It really helps when the word problems are things they want to know about (keeping a bank record, grocery lists, and birthdays).
The Critical Thinking Company

has been producing award-winning products for over 50 years. They teach standards-based reading, writing, mathematics, science, and history to help students achieve better grades and higher test scores. Students who practice critical thinking learn to apply it throughout their education & life.
Mission Statement:
The Critical Thinking Co.™ is committed to developing children's critical thinking skills for better grades, higher test scores, and success in life. We do not teach through drill and memorization or teach to the tests—we empower the mind!
"If we teach children everything we know, their knowledge is limited to ours. If we teach children to think, their knowledge is limitless." - Michael Baker, President
Members of the TOS Crew reviewed several items from The Critical Thinking Company. Sail on over to the
Crew Blog
and read about the other products.

Disclaimer: As a member of the TOS Crew I received Mathematical Reasoning free of charge from The Critical Thinking Company to use with my children in exchange for my honest review.