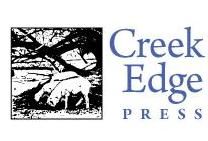 Amber is a very self motivated child, when she sets her mind on something she has to finish it!! She also loves History and will make sure the rest of us have all the details of what she has been learning. That is one reason I knew she would love the
Task Cards
from
Creek Edge Press
.
Creek Edge Press offers a variety of Task Cards in
History, Geography, Culture
,
Science
,
Art
, and
Music
. The Task Cards are nonconsumable and can be used for any grade or multiple grades at a time.
The Crew was offered a choice of 10 different sets to choose from. I chose the Early Modern World Task Cards for K-8 grade because Amber (age 10) has had a thing for George Washington lately. They start at $18.00 a set and the
Early Modern World Task Cards are $20.00
.
We received 34 cards and a 21 page book that is an introduction to the course and serves as a teacher's manual.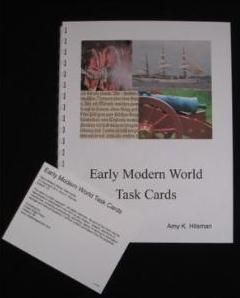 The teacher's manual explains how the teacher and the student should approach the tasks along with a section on how to prepare your learning environment. There is a list of Core Books that can be used with this course and recommended book lists for K-3, 4-8, and all ages. The last section gives a Card by Card list so the teacher can prepare the necessary maps, books, or other resources for each Task Card. There is an asterisk by each task that the child may need help from the parent.
The Task Cards are designed in a way to engage the student with the material. The focus is on investigation and the experience of discovery. The cards contain research, summaries, posters, maps, definitions, further reading and much more.
Creek Edge Press was launched in the spring of 2011 by Amy Kate Hilsman. She is a homeschool mom and started making task cards for her daughter when she was entering first grade. Her goal was to provide materials that bridge the Montessori-Classical-Charlotte Mason spectrum and bring these philosophies to life. Amy started filling orders for her task cards in 2006 by word of mouth and they are now being used in 32 states and 9 countries.
I used the Early Modern World Task Cards with Amber (age 10) & Delaney (age 9). I let the girls go through the Tasks Cards and choose one they wanted to work on first. Amber chose card #22a & b and talked Delaney into working on the same ones. These 2 cards cover The American Nation and The American Constitution. (Amber only picked this one because it has George Washington on it). They labeled maps, made a flag, wrote summaries about the Articles of Confederation, Constitutional Convention, and the Bill of Rights. The girls didn't have any trouble finding the information they were looking for and we found plenty of books to read.
Amber loves the Task Cards!! She thrives on the hunt for information; gathering books, encyclopedias and searching the library. She gathered her materials and spread them all over the floor so she could get to them all. She was very fascinated with the little boxes listed before each new task and she put a little "A" beside each one after it was completed. It also helped keep her focused on what she was learning because she loves Encyclopedias and can spend hours hopping from subject to subject.
Delaney has a love/hate relationship with the Task Cards. She really likes to write so she loves all the summaries listed on the cards but she doesn't like gathering all her resources. Once Amber had them all out she enjoyed working through her list of tasks.
I like that the Task Cards use real books and they got my girls involved in finding the information needed. This method of learning would be very easy to adapt to multiple grade levels at once. I didn't need to buy any additional resources for the Core Books listed in the Teacher's Manual. We own a set of encyclopedias, a good Atlas & a good Dictionary. Most of the recommended books are available at our library.
Amy Hilsman let the Crew review several different sets of Task Cards. Sail over to the
TOS Crew Blog
to learn about other card sets.

As a member of the TOS Crew I received one set of Early Modern World Task Cards from Creek Edge Press to use with my children in exchange for my review.