We used Latin For Children from Classical Academic Press last year and we really liked it so when the Crew announced we would be getting The Art of Argument from them this year my girls and I wanted to try it.
The Art of Argument from Classical Academic Press is an Introduction to the Informal Fallacies. It was designed to teach argumentative adolescents how to reason as they grow in our highly commercial society. This curriculum is recommended for junior high & high school students. It includes "phony advertisements" for everyday items to help your students identify the 28 informal fallacies.
The text features a variety of:
Dialogues
Worksheets
Real-World Applications
Phony Advertisements
Dialectic Discussion Questions
Tests
Fun extras such as a humorous skit for students to perform, and the famous short story,

Love is a Fallacy

by Max Shulman
We received the student book, the teacher edition, and a DVD containing the discussion of the first 6 fallacies. You can view a sample chapter of the
230 page student book
and the
286 page Teacher Edition
.
The new edition student book can be
purchased for $21.95
and the Teacher Edition is
$24.95
. The complete
DVD Set is $54.95
. All three products can be
purchased together for $88.95
.
Amber (age 11) and Delaney (age 9) have both been enjoying this course. They are having so much fun finding fallacies in magazines, around town, and even in conversations. Amber made the comment, "She is going to say a fallacy....I just know it!" when her sister started talking.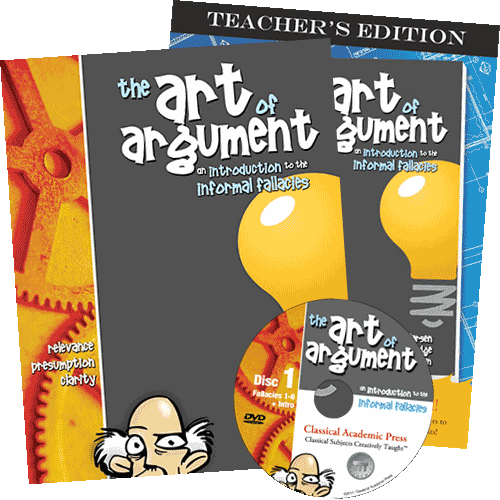 The revised Art of Argument includes:
Improved chapter and unit organization for greater ease of use
Fallacy explanations rewritten for clarity
Many added and updated examples
Ten new and revised advertisement illustrations
The Teacher's Edition includes:
Entire student text
Answers to all exercises & tests
My girls are having a lot of fun with this curriculum and they haven't had any trouble with the work even though they are below the recommended grade level. We have been working on this together. I will read the text out loud (this works great since the complete student text is included) and then we went over any definitions and discussed the questions. My girls really like the dialogues between Socrates, Nate, and Tiffany because they really help with the understanding of the fallacies. When we came across one we would each take a character and read our part. They absolutely love finding the fallacies in the phony advertisements! Lastly we would watch the DVD. My girls didn't really like the DVD but we watched it any way to see if they students and teachers had anything to discuss that we missed. I like the DVD because it lets you in on the student/teacher discussions and they were done in a fun relaxed setting.
Classical Academic Press specializes in Latin and Logic to equip and engage both students and teachers. They also carry Bible, Poetry, other Languages, and Educational Resources. Every product is created with 4 important attributes.
Classical: A rich, traditional subject that acquaints students with the best that has been thought and said, and that provides students with a set of master skills they will use throughout life.
Creative: An engaging design, along with enjoyable online support in the form of games, stories, animations, audio, and e-readers, all contributing to a remarkable student experience.
Relevant: Books and media that clearly connect to student interest, curiosity, and need, and that enable students to effectively write, think, debate, and argue.
Easy to Use: Student books with clear instructions, incremental teaching, and regular review complemented by detailed teacher editions, instructional DVDs, and generous online support.
Sail over to the
TOS Crew Blog
and read what others had to say about The Art of Argument.

As a member of the TOS Homeschool Crew I received the Art of Argument free of charge from Classical Academic Press to use in my homeschool in exchange for my review.