I think learning to read is the most important thing that a child can learn. Reading can open up so many adventures for a child and allows them to be able to read and understand God's word. If they cannot read well and understand what they are reading they will struggle throughout school and life.
Academic Success For All Learners
is a reading program that has more than
40 years of research
behind it and they are making a difference in classrooms around the globe. Research has demonstrated this reading material can help improve phonemic awareness, comprehension, and fluency. By using this program you can help your child with their reading ability and build their confidence.
The Reading For All Learners Little Books
are geared for K-3 grade or kids who are struggling with reading. The core of the program is 141 little books divided into 8 sets. Each Little Book set is a different color and sells for $30. They cover phonemic awareness, phonics, fluency, vocabulary, and comprehension.
Members of the TOS Crew have been using different levels of Academic Success. We were allowed to take an
assessment test
to place our student in the appropriate level of books.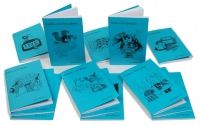 I had Alaina (age 7) take the placement test and she was placed in
set 5
&
set 6
of the Little Book Series. We received set 5 & 6, an Instructor Guidelines book, and a Certificate of Success for both sets. Each set contains 14 little books with 3 or 4 stories in each book. The inside cover of every little book has a Pronunciation Guide of individual letters and combinations. Every story has a list of practice words and new words. Some stories have a review of sounds previously taught in other books. Throughout the stories there are comprehension and thought questions.
I really liked that Alaina could take the placement test because it put her in the program exactly where she needed to be. She loved that the books are colored! She was so excited when we opened the box and she had so many books to read. Since there are only a few stories in each book she can see the progress she has made as her finished pile grows. This has instilled reading confidence in her and I can't wait to award her the certificate for completing level 5.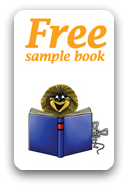 Sail over to the
TOS Crew blog
to read reviews on other levels of Academic Success.

As a member of the TOS Crew I received book set 5 & 6 free of charge from Academic Success to use with my daughter in exchange for my review.