I have never been a very good speller and that is very frustrating to me. That has made me want my kids to be able to spell well. When we received
See-N-Spell
to review I was very relieved to read that people usually have a larger verbal vocabulary than written vocabulary and to avoid spelling errors writers will sometimes choose a simpler word to express their thoughts.

See-N-Spell is a spelling and vocabulary quick reference guide. It is designed to enhance correct spelling and broader vocabulary usage for 4th grade users and up. It is divided into 3 sections.
Section One- Is arranged in alphabetical order and the words are divided into common language functions for each word. This helps the user become familiar with the correct spelling and how to use the word in a sentence.

Section Two- Includes the most commonly misspelled words, arranged in alphabetical order for quick reference.

Section Three-Provides an area to write Special Interest Words that you might want to add to the guide.
To use the Quick Reference Guide simply scan the letter page for the word you need to spell. When scanning for the word you can use the See-N-Read to make it easier.

The See-N-Reed is a clear reading window surrounded by a non-glare tinted transparent finish that reduces line skipping. It allows readers to concentrate on the content by helping to control smooth eye movements across the line of text.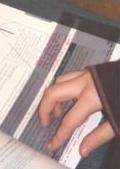 Alaina (age 7) has used the See-N-Read the most. She didn't use it with the See-N-Spell but it worked great with her bible. The print is smaller with more words on the page than other books that she reads. This has helped her stay on the line of text that she is reading. She is a very good reader but it is harder for her to focus on the tiny words and it has built her confidence while reading her bible out loud.
Delaney (age 9), Amber (age 10), and I have been using the See-N-Spell. We kept it very accessible in our school room & it is very quick and easy to find the word you are looking for. This 40 page book contains over 300 commonly used American English words. As long as you know the first sound of the word you can find the page and easily find the word. It is much smaller than a dictionary and my girls already know the meanings of most of the words so we didn't need the definitions. We used the Commonly Misspelled Words section for our spelling words so maybe they will not be my kids commonly misspelled words.
See-N-Spell
can be purchased for $9.99 and it comes with a free
See-N-Read
.
Sail over to the
TOS Crew blog
and read what other crew members thought of See-N-Spell and See-N-Read.

I received See-N-Spell and See-N-Read free of charge to use with my children in exchange for my review.