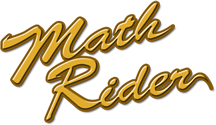 Math is probably my least favorite subject to teach my kids. I was beginning to think it had to do with me or our curriculum but finally my youngest child loves math. Alaina begs to do extra math every day, she loves worksheets, flashcards and especially
math facts games
. She just turned 7 and is learning multiplication for fun!! All three of my girls ages 7, 9, & 10 have been playing Math Rider to work on their math facts.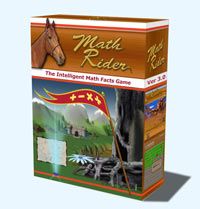 Math Rider
is a computer program that helps your child master math facts from 0-12 in addition, subtraction, multiplication, and division. This program is great for any elementary child that is learning math facts or older children (or parents) who need the review or to build their speed. You can choose the level of difficulty for each quest but it is
recommended
that they start in the easy level before moving into a harder one in each math operation because it helps the child remember the facts easier.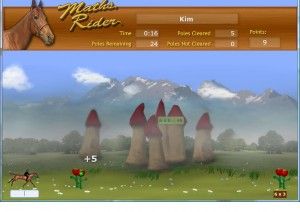 Each student gets to ride Shadow through Mathlands. Shadow jumps over obstacles by answering number sentences correctly and rewards await you at the end of your quest.
As the student progresses through the program there will be objects added to their home page. They can earn flowers, buildings, gates & posts, and eventually a castle.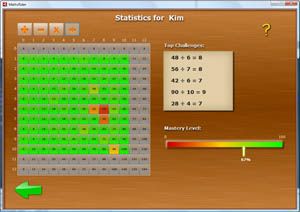 The statistics page is great. It is so easy to see what math facts each child has mastered and what they need to work on. Once the number fact has been mastered the square will be green. If you hover over the square the math problem will pop up and if you click on it it will recite the problem to you. The problems that were a challenge for the student are listed in the tan box. The colored bar represents the mastery level.
My girls really like Math Rider because they get tired of using paper speed drills and flash cards over and over. This is like a game to them and they are very willing to work on the math facts. I really like it because I can tell at a glance what my children need to work on and what they have mastered. We use speed drills in our school daily and getting 3 levels of them printed from our CD is a little time consuming.
Math Rider is
currently $37.00
but on February 15th it will increase to $47.00. This price will include any future updates made to the program. There is a
free 7 day trial
and there is a 30 day money back guarantee.
If you like
Math Rider on Facebook
you will get a discount code!!
Sail over to the
TOS Crew Blog
and read what other homeschool families thought about Mart Rider.

I received Math Rider free of charge to use with my children in exchange for my review.