We have had some wonderful winter weather & it has been nice because it has given us the chance to notice the night sky early without being to cold. Amber has been very intrigued with the moon lately so I was very happy to be able to start using The Celestial Almanack from
Classical
Astronomy.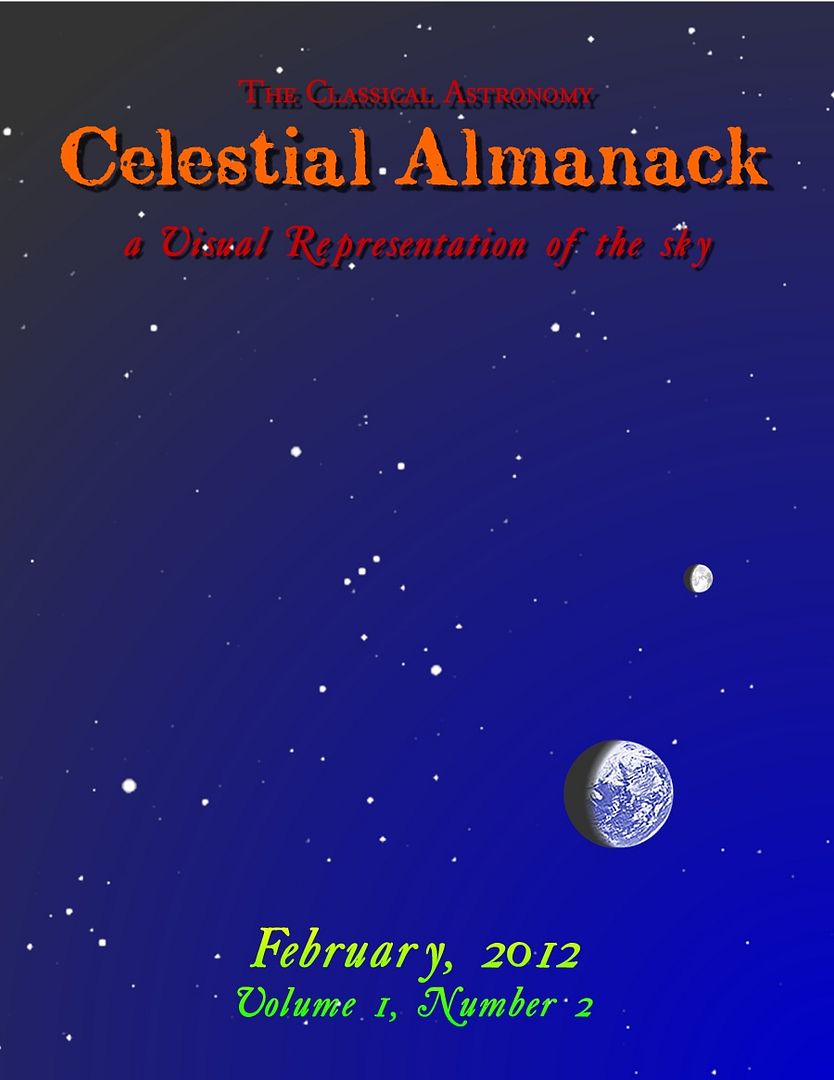 The Celestial Almanack is a visual representation of the sky. It is written for each individual month so that the information is current. It can be used as a monthly supplement to
Signs & Seasons
Curriculum
or on its own and there is no need for a telescope. The 21 page monthly Almanack can be purchased a PDF download at
Currclick for just $3.00
.
We have just received the February 2012 Volume I, Number 2 Almanac. It starts our explaining leap year and show us different signs of the seasons. The pictures are wonderful because they actually show how the sky will look from where you are standing. February is a great month to watch Jupiter and Venus draw toward a conjunction that will take place in March.
The Celestial Almanack will be promoting three very rare sky events over the next six months.
1) the Jupiter-Venus conjunction on March 15
(once every 24 years);
2) the annular solar eclipse on May 20
(once every 18 years); and
3) the transit of Venus on June 5
(last one til 2117!).
Jay Ryan is absolutely frantic about trying to make sure that every single American, besides homeschoolers, finds out about these events and how to observe them!
Jay is homeschool dad to his 5 children. He has a BS degree in Physics but is completely self-taught in Astronomy. His home based business is
Fourth Day Press
and their goal is to create a series of user-friendly astronomy books and curricula that present the
visual
appearances of the sky in a
visual
medium, relying heavily on illustrations that depict the actual scenes that a reader might expect to see.
I know very little about Astronomy and am looking forward to learning right along with my kids.
Sail over to the
Crew blog
and read what other members have to say about the Celestial Almanack.

As a member of the TOS Crew I received Vol. 2 of the Celestial Almanack to help spread the word about exciting sky events.