I AM ATTENTIVE
I watch and listen carefully
I am NOT...forgetful, distracted or distracting and I don't ignore or interrupt!
~Virtue Clue Card
It is impossible to achieve moral excellence but it is very important to continually try to gain it for ourselves and our children.
We Choose Virtues
wants to turn your caterpillar's character into butterflies.
I received Virtue Clue Cards, Kids of Virtue download coloring book, Family Character Assessment, Kids Memory Verses, Bible Heroes and Truths, and the Teacher's Handbook. The character curriculum is recommended for children ages 3-18.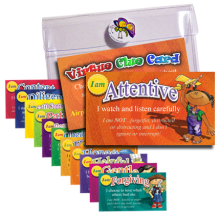 There are 13 colorful
Virtue Clue Cards
in a carrying pouch. On each card is a virtue, a phrase to go with it, and a Virtueville character. On the back is a reminder to go the whole day practicing the virtue. The Clue Cards are sold for $7.95 but they are on sale right now for
$5.99
.
The
Kids of Virtueville Coloring Book
is available for $3.00 in a download format only. All 12 Virtueville Characters are included along with a word search.
The
Student Character Assessment
is available for $1.00 but right now it is FREE. This assessment lists all 12 virtues with numbers 1-10 to rank the child's progress on building their character.
The
Teacher's Handbook
is 48 colorful pages and is available in hardback for $19.95 or download version for $4.99. This is included free in many of the kits that are available from We Choose Virtues. This handbook contains steps and tools for teaching character education in the classroom, home schools, and daycare.
The
Youth Memory Verses and Heroes
and Truths
was also included in our products and it is available free. It contains a bible hero and a memory verse to go along with each virtue.
I have been using We Choose Virtues with all three of my girls ages 7, 9, and 10. It has been very easy to implement into our day with very little amount of time committed. It has been good to have character traits on our mind to help ourselves and each other with our attitudes. My girls like to color so they have really been enjoying the coloring sheets and my pig loving 7 year old daughter's favorite character is Piggy Bank Frank (I'm sure I'll be printing that one several times). This character curriculum would be great to use with Sunday School class too.
Heather McMillan

has created We Choose Virtues out of her love for children and her desire to see them succeed. She is a preschool teacher and a chilren's pastor and was concerned about the lack of good character in chilren.
We Choose Virtues has just updated the paper quality of their most popular posters. You may now purchase the new quality posters or the original posters at a discounted price.
Prices for these thicker posters:
Kids Virtue Poster now $11.99 (from $14.99)

3 Rules Poster now $9.99 (from $11.99)
100 Days of Virtue Chart with Butterfly Stickers now $13.99 (from $14.99)
CLEARANCE POSTERS!

While supplies last.
2011

Kids Virtue Poster $9.75 (from $14.99, 35% savings)
2011 100 Days of Virtue Chart and Butterfly Stickers $11.99 (from $14.99, 20% savings)

2011 3 Rules Poster

$7.75 (from 11.99, 35% savings)
JANUARY/FEBRUARY-

The 100 Days of Virtue Poster and Stickers will be included FREE with any Homeschool Kit purchase during

these months

.
PROMO CODES: You may use only one.
VIRTUE15 for 15 % off the shopping cart is still available

SHIPFREE for free worldwide shipping
Make sure you check out

We Choose Virtues Facebook page

. They

include tips on parenting, leadership and inspiring lasting Virtue.
Sail over to the
Crew Blog
to see what other crew members thought of We Choose Virtues.

I received We Choose Virtues products free of charge to use with my children in exchange for my review.