My Side of the Mountain is one of my families favorite books. All of my kids really enjoy following Sam on his wilderness adventure. I just finished reading the book out loud to my kids when we were offered the
Z-Guide to the movie version of My Side of the Mountain
from
Zeezok Publishing
.
The My Side of the Mountain Z-Guide was written to be used with the 1969 movie from Paramount Pictures. This Z-Guide covers Natural Science, Henry David Thoreau, and Survival Skills it is meant to be completed over a weeks time. The topic overview and movie synopsis should be completed before watching the movie while the movie review questions should be answered during the initial viewing to help the student evaluate the message from the movie. There are 9 other activities to complete or you can pick and choose which ones to finish if your time is limited. Some of the activities included are spelling & grammar, designing a wilderness home, surviving in the wilderness, learning more about the peregrine falcon, and worldview activities. There are also family discussion questions and a list of additional resources for further study.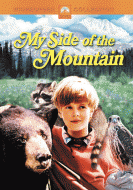 Amber (age 10) & Delaney (age 9) completed the Z-Guide while we watched My Side of the Mountain. We found the exact movie copy that this Z-Guide was written for at our local library or you may purchase it from Zeezok for
$19.98
. The Z-Guide was very easy to use and my girls didn't have any trouble hearing the answers to the questions. Their favorite part of the guide was designing a wilderness home & rewriting the ending to the movie. They also enjoyed studying more about the peregrine falcon and their wilderness plan was very interesting. The girls used the
Kit Kitteredge Z-Guide
last school year and we feel they are a great way to break up our regular school work.

Zeezok Publishing strives to provide quality literature and educational books to train the next generation and was established in 2003. They believe "It is better to build children than to repair men." They want to help you develop your family's love for God and country through their products.
The Z-Guides are available for
$12.99
and there is a very good selection for elementary through high school students. There is a great
explanation of what a Z-Guide
is on their website along with a sample of the
Z-Guide for The Count of Monte Cristo
.
Crew members received Z-Guides to several different movies. Sail over to the
Crew Blog
to read what other ones were reviewed.

As a member of the TOS Crew I received the Z Guide for My Side of the Mountain free of charge to use with my children in exchange for my review.