Amber is a very determined hands on learner. She loves to craft, build, bake, cook, and even work on cars with her dad. I wonder where she gets that?? But unlike me she will read the directions. The UPS guy doesn't come to our house until around 6:00 pm and on the day we received our box from PITSCO we lost her for the rest of the evening.
We received the
Medieval Machines Pack
and it includes a
Trebuchet Kit
,
Catapult Kit
,
Mass Plates
, and the
Siege Machines
book along with some clay. This kit is a Pitsco exclusive that is manufactured at their facility in Kansas and retails for $21.95.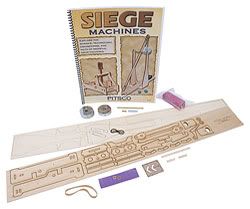 The first night Amber (age 10) put the Trebuchet Kit together. It came with everything we needed except the super glue which we already had. Amber likes to do things on her own until she absolutely can't figure it out on her own. I sat with her while she completed the Trebuchet and she didn't need help until she was ready to tie the sling. The next day she assembled the Catapult without any help. The directions were very detailed and easy to follow.
The 31 page
Siege Machines
book explores the science, technology, engineering, and math of medieval siege machines. Although this was mainly Amber's project she had to make sure that we all knew the history of siege machines that she had learned from the book. We covered History, Math, and Science all in one. The activities cover Tension and Torsion, Mass and Distance, Metric Conversion of Length, Calculating Averages, Elasticity, Prediction, Force and Motion, and Weights vs Wheels.
This Siege Machine Unit was very educational for the whole family and it was so much fun. The girls used clay and other objects laying around the house in the machines to knock down walls built with their math manipulatives and to see whether the catapult or the trebuchet would throw the farthest. When their big brother was on leave from the Army he even had to get in on the action.
PITSCO Education
combines hands-on activities and a student-directed learning environment in core courses and career skills in science, technology, engineering, and math. After 40 years of innovation they now serve more than seven million students a year.
The Siege Machines are available in other
kits and there are many other items
at the PITSCO store that we have added to our wish list. They offer race cars, aerospace, structures, robots and so much more starting at $10.95. Amber is really wanting a hot air balloon now.
We would definitely recommend PITSCO for great hands on learning.
Sail over to the
Crew Blog
and read other Crew reviews.

As a member of the TOS Crew I received one set of 2 Siege Machines from Pitsco Education to use in our homeschool in exchange for my review.