My girls are very imaginative, they love to come up with characters, plays, and stories. Some days they are animals, characters from books, characters from the stories their dad tells them at night, and they each have a made up fancy name for the times they are at elegant restaurants. Since we started using Homeschool Spanish they have come up with new scenarios. They now each have a Spanish name and use what little Spanish they know with each other.
Homeschool Spanish is a curriculum for the whole family. Their motto is to Relax, Enjoy, Aspire, Learn Spanish. Dr Williamson-Cora developed the curriculum to use with her own children because she didn't have time to sufficiently plan using other foreign language curriculum. She is French professor and wanted something that her kids could communicate with after learning it.
We received a download that contained the Curriculum Book, the Activity Book, the Daily Curriculum Guide and the Audio Files for the program and sells for
$59.95
. You can view a
sample
of each at their website.
The

Daily Curriculum Guide

contains a 48 week lesson plan. There is a column for prep for each week along with a plan for each day. It includes activities that your children will enjoy like creating board games, putting on puppet shows, and playing regular games using Spanish words instead of English. I think that the plan is very easy to read and follow. Even if your children are younger or older it would be very easy to extend or shorten the plan as needed. We tried staying right on target but with holidays and so much company it didn't always happen.
The

Curriculum Book

is 105 pages and is divided into 10 units. Each unit is divided into a general category such as greetings, food, sports, etc. The units are divided into sections with new vocabulary words, phrases, tips & ideas to help teach the new words. Some units also deal with grammar.
The

Activity Book

contains word search, crossword puzzles, dialogue completions, cryptograms, matching, and other fun activities and is 179 pages long.
The

Audio Files

are actually 2 sets of recordings. There is one set for the Curriculum Book with 32 recordings and one set of 18 recordings for the Activity Book. Both books have a picture of a speaker where you should listen to an audio recording. The dialogue is written word for word in each book.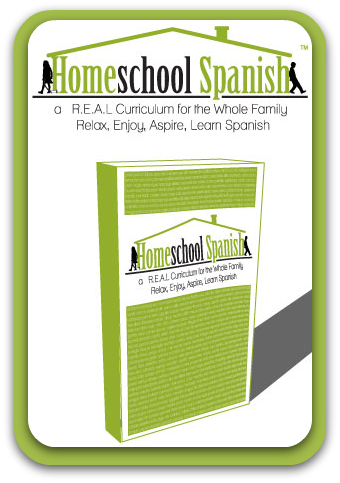 I am using Homeschool Spanish with all three of the girls. Amber (age 10), Delaney (age 9) have been completing all the worksheets and activities while Alaina (age 7) listens to the audio conversations and just repeats what her sisters tell her while they are playing. The program is very easy to use with very little preparation time. The program is taught in a conversational way by learning words that we use everyday right from the start. This made it very easy to remember and to use throughout the day. We all listened to the audio and then talked about our new vocabulary words and used them with each other. Amber & Delaney would then complete the worksheets that went along with each lesson. Some weeks we worked on Spanish everyday but with company for the holidays some weeks we did fewer days. With this program it was very easy to change our schedule and the girls actually remembered what they had learned even after a couple of days of no school.
There are several options when
purchasing
the curriculum. The download starts at $49.95 or $59.95 with the curriculum guide. The hardcopy is $89.95 and $99.95 with the curriculum guide. They will be offering a high school supplement soon.
Sail over to the
TOS Crew blog
to read what other homeschool families thought of Homeschool Spanish.
As a member of the TOS Crew I received the download version of Homeschool Spanish free of charge to use with my children in exchange for my review.