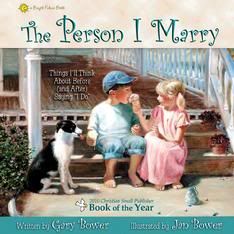 The person we marry is a very important decision to make. I started praying for my children's spouse when they were very young. I pray that they will find a godly person to share their life with and I pray that my child will make a good spouse. Our children need to know that they will run into problems in their marriage and it is how they react to them and how they handle their spouse is what counts.
The Person I Marry
is a great way to show our children how to be the spouse they should be.
I read
The Person I Marry
with my daughters ages 6, 9, and 10. This beautifully illustrated picture book is wonderful and is a must read for everyone. I wouldn't just call this a children's book because even people who have been married for years and years could benefit from reading this. The book tells us that the wedding is not just about the beautiful clothes, flowers, and decorations it is about the qualities of the people getting married. This is a great introduction of marriage to children that can lead to many discussions throughout their life. This book is a celebration of commitment, purity & true love! This would make a wonderful gift for a bridal shower or wedding.
The Person I Marry
is part of the "Bright Future Series" from
Bower Books
. It was awarded the "2010 Book of the Year" by the Christian Small Publisher Association. On their 30th wedding anniversary Gary and Jan Bower created this book to use as a tool to spark conversations about marriage with their 12 children. It is hardcover, 32 pages, and retails for $11.99.
The Bright Future Series was created for all ages and are filled with wisdom and principles that lead to a brighter future. Other titles in this series are
What Do Heroes Wear
,
The Garden Where I Grow
,
The Jingle in My Pocket
, and
There's a Party in Heaven
!
Gary uses his wisdom as a writer and a father of 12
to speak
at mom's groups and elementary schools. He also offers some wonderful tips for writers
here
. Jan also offers a
tip of the month
to aspiring artists. Are you wondering how a mom of 12 kids has
time to paint
? Check out the video below to see how things happen at the Bower house.
About the Author
Gary fell in love with picture books at an early age, sitting in the lap of a mother who understood the wisdom of investing reading time in her child's life. As a youngster he entertained himself for hours by writing his own comic strips, comic books, jokes, poems, and skits. As an adult, his years of professional and volunteer experience ministering to small children and teens, combined with thousands of story nights with his own children, have helped him develop his skills with the written word and polish his storytelling craft. While he has been published with several conventional publishers, self-publishing is something he loves. It allows him not only the opportunity to develop a story, but also the joy of designing the entire book and working very closely with every aspect of the publishing process. He has been tinkering with several adult story ideas for years; but for the time being, he has found his voice in the melodic and tender lines of picture books.
About the Illustrator
Jan Bower began doing portraiture in high school, using oil pastels at first until she sold enough portraits to purchase her first set of oil paints. Her first commissioned oil portrait was of a professor at the college Gary attended. Self-taught and passionate about her art, she developed her skills and techniques through years of personal study, trial-and-error, and practice. Over the last 30+ years, Jan has painted hundreds of commissioned portraits. All along the way, her husband, Gary, kept trying to coax her to illustrate books for him. She finally gave it a whirl ten years ago. Now, illustrating consumes much of her time and artistic focus. She has created hundreds of adorable book illustrations, both for her husband's books and for others.
Sail over to the
Crew blog
and see what other families thought of
The Person I Marry
.

As a member of the TOS Crew I received a digital copy of The Person I Marry free of charge to read with my children in exchange for my review.