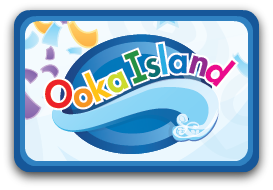 Alaina loves pigs....little pigs, big pigs, flying pigs, fluffy pigs, you name it she loves them all. Even bad pigs called Fligs!! The Fligs in Ooka Island like to steal the elves and you have to save them by finding and reading books. Alaina (age 6) has been having a great time using
Ooka Island
. She already knows how to read but it has been great review of her phonics. She loves the little story books in the Popcorn Library. Her favorite part of the game is the Cake Factory.
Ooka Island
is a down loadable hero-mission in 3D that will motivate your child as they learn pre-reading, reading, spelling, and writing skills. This adventure is for children in grade pre-K through second grade and contains dozens of activities that will captivate the child while improving their literacy skills.
Ooka Island Inc.
wants to teach children to read fluently with fun and compelling reading instruction. The
Ooka Island team
is very qualified and passionate about teaching literacy.
The
OokaMethodTM
combines phonological development and language-rich text with comprehension activities so that children have the opportunity to achieve effortless reading.
To get started with Ooka Island you must first download the program onto your computer. This download is a very large file and will need high speed Internet. Once this is done you will set up your parent and child account. It is very easy for the child to log themselves into Ooka Island because they are assigned a picture to click on instead of actually typing in their password. First off you get to create you very own avatar, of course there were big decisions to be made on what Alaina's avatar should look like.
Once on the Island the child goes to different locations where they play phonics games and try to find the lost books. The Cake Factory, The Z Doo, and the cave of sounds are Alaina's favorite parts of the Island. Once the book is found then you can continue to the Popcorn Library to have the book read to you. After the book has been read the child will be asked questions about the book. If they questions are missed then they will be sent back to that page in the book to have it read again. The book is then saved in the library and the next time the child can choose to have the book read to them or read it themselves. There are 85 books to be found on Ooka Island. While the learning games are being played you can collect currency that is called Ooka Mist. During free time you can play with the elves on the playground.
The Book Path
This cycle is repeated to complete all 24 levels in Ooka Island.
The Ooka Lighthouse is a place where parents can view progress reports of their child's work. This part of Ooka Island is not up and running yet so I did not have a chance to use this. The website says it will record progress with every click of the mouse so the phonological skill development and growth in reading comprehension can be monitored.

Subscribe now and save!!
Ooka Island has several pricing options for homeschool and public school families. The homeschool pricing is listed below and you can view the school pricing
here

.
You can also
e
xplore the island
and see if it would be right for your child.
Family & Homeschool Pricing
Sail over to the
Crew Blog
and read what other Crew members thought of Ooka Island.

As a member of the TOS Crew I received free access of Ooka Island to use with my daughter in exchange for my review.