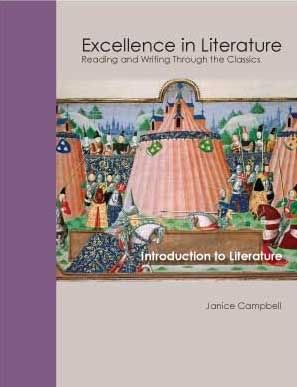 I love reading to my kids, we have been on so many adventures together while we were curled up on the couch but it is the writing part that we are lacking. I have always wanted them to get the most out of what they read or what I read to them so I ask them questions about the book. This usually leads to a discussion of some kind. I'm not sure if they really want to learn or if it is because we read as a family at night before bed & they are just trying to stay up later. I really want them to think about what they read and be able to put their thoughts in writing. I was very happy to recieve Introduction to Literature to use with my girls.
Introduction to Literature is recommended for children in grade 8-12 but I am using it with my 5th and 6th grade daughters. They love to read and their comprehension is wonderful so I figured they could handle it but that it might take them a little longer to work through it. I was very surprised at how well they caught on to what they needed to do. I am planning on finishing this book and then maybe come back to it at a later time and complete the honors reading.
When I first saw the book I was a little overwhelmed. I hated writing in school and had never written an approach paper so I am learning right along with my girls. It is nice that this curriculum starts out with short stories because it was a lot faster to finish them and it made the writing easier to get the hang of. A web address is included as to where the short stories are listed for free. We already have several of the books listed and some of the ones we don't have were free for our Kindle on Amazon.
Introduction to Literature
is a college-preparatory literature and composition course. The student will learn literary analysis through practicing essays, approach paper, and other evaluative writing. The reading list includes novels, short stories, poems, and drama and have been selected for literary quality, and their place in historical development of literature. The author has put a lot of
thought into the reading content
of this course. If you use all
five years of the Excellence in Literature curriculum
, you'll read stories that show freedom, justice, truth, humility, goodness, and love in action. You will also encounter imprisonment, injustice, falsehood, pride, evil, and hatred. These topics are true to life & it is important that your child learns to discern what is good.
By the end of the course, students will:
Understand the process of writing, including the use of tools such as a writer's handbook, dictionary, and thesaurus.
Have specific understanding of selected representative texts by major authors of the periods studied.
Have a general understanding of the historical and cultural contexts of the works.
Be able to analyze literary texts and present thoughtfully developed ideas in writing.
Demonstrate competence in essay organization, style, and mechanics.
In each unit there is a focus text, context reading, honors reading, unit focus, an introduction, something to think about, be sure to notice, and assignments. The context materials are additional materials to read, watch, or listen to. There are links to websites and recommendations for additional readings.
This literature course starts with a unit on short stories and then moves into larger works. Here is the focus text and honors reading for each unit.
Unit 1: Short Stories by-
• Sarah Orne Jewett: A White Heron
• Edgar Allen Poe: The Purloined Letter (This one is not scary, if you're concerned about that.)
• Guy de Maupassant: The Diamond Necklace
• O. Henry: The Ransom of Red Chief
• Eudora Welty: A Worn Path
• James Thurber: The Secret Life of Walter Mitty
Unit 2: Around the World in Eighty Days by Jules Verne
Honors: 20,000 Leagues Under the Sea by Jules Verne
Unit 3: A Connecticut Yankee in King Arthur's Court by Mark Twain
Honors: The Prince and the Pauper by Mark Twain
Unit 4: Jane Eyre by Charlotte Brontë
Honors: Shirley or Villette by Charlotte Brontë
Unit 5: Pygmalion by George Bernard Shaw
Honors: Murder in the Cathedral by T.S. Eliot
Unit 6: Treasure Island by Robert Louis Stevenson
Honors: Kidnapped by Robert Louis Stevenson
Unit 7: Animal Farm by George Orwell
Honors: 1984 by George Orwell
Unit 8: The Tempest by William Shakespeare
Honors: A Midsummer Night's Dream by William Shakespeare
Unit 9: Gulliver's Travels by Jonathan Swift
Honors: The Pilgrim's Progress by John Bunyan
The back of the book talks about the format for writing and offers sample writings of former students to use as an example. An approach paper, author profile, literature summary, essay, and poetry analysis are discussed.
Introduction to Literature is 130 pages that are divided into nine four-week units and is recommended for children in grades 8-12. The e-book sells for
$27.00
,
and the print edition is
$29.00 plus $4.95 shipping
.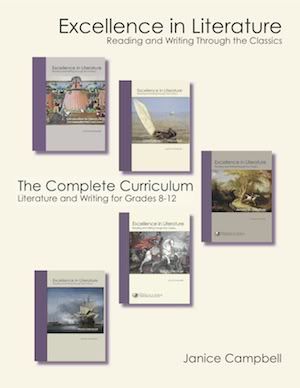 Janice Campbell
homeschooled her four sons from kindergarten into college, and has been writing and speaking on homeschool topics since the 1980's. She graduated cum laude from Mary Baldwin College with a B.A. in English, and is lifelong student of literature and writing. In addition to Excellence in Literature, a five-year, classics-based, college-prep English curriculum for homeschoolers, she is the author of Transcripts Made Easy, Get a Jump Start on College, and Evaluate Writing the Easy Way.
Sail over to the
Crew Blog
to see what other members thought of Introduction in Literature.

As a member of the TOS Crew I received a digital copy of Introduction to Literature free of charge from Excellence in Literature to use with my children in exchange for my review.