We have been playing games again!! This time from
North Star Games
. The TOS Crew was offered Wits & Wagers Family edition and Say Anything Family and we were lucky enough to get both. First I'll introduce you to Wits & Wagers and then you can head over and read about
Say Anything Family
.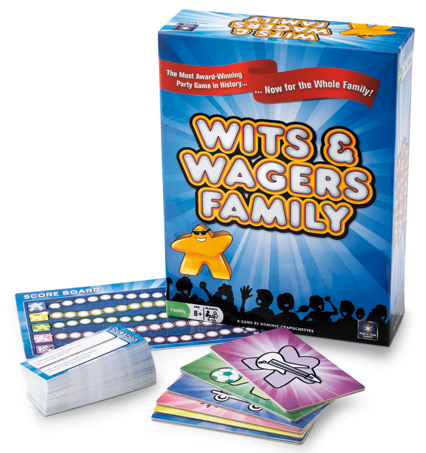 Wits & Wagers Family edition is recommended for 3-10 players ages 8+. It came with a score board, question cards, 5 dry erase answer cards with markers, and 10 Meeples. Play time takes about 20 minutes. After the question is read everyone will answer in a number. Once the answers are all displayed everyone will get a chance to wager on which answer is correct. All players or teams have 2 Meeples one is bigger than the other and will earn you more points than the small Meeple when it is played. Points are awarded by getting the correct answer, wagering your Meeples on the correct answer, and other people placing their Meeple on your correct answer.
My girls had so much fun playing with their Meeples.
We loved this games!! All of the answers are in numbers so everyone has a chance to answer even if they don't know anything about the question. It was funny because the times my daughters (ages 9&10), daughter-in-law, and myself didn't have a clue what the answer was my 6 year old would come the closest with her guess. I think it took us a little longer than 20 minutes to play the game because we are very easily distracted. one of our questions was about balancing spoons on your face so we had to stop and google it.
Of course....we had to try it.
Every time my daughter-in-law comes over to play games Wits & Wagers Family is the one she always wants to play.
North Star Games brings friends and families together with fun, innovative party and family games.
Meet the
designers
of North Star Games:
Dominic Crapuchettes
Dominic is the Founder & Co-President of North Star Games. In 8th grade, Dominic earned the much-coveted "bad boy" title when his first game, Kabloogi, was banned from school because kids were playing it during first period. It is because of his great passion for games that he stopped captaining a commercial salmon fishing boat in Alaska to start the most innovative board game company on the planet.
Satish Pillalamarri
Satish Pillalamarri is the Co-President of North Star Games. He was a cog in the wheel at a New York hedge fund when a life-changing event took place: he became a contestant on Jeopardy! This experience prepared him for his position as the Chief Question Writing Officer at North Star Games. Inspired by his love for having fun, Satish's mission is to bring innovative games to every man, woman and child (and the occasional monkey).
Luke Warren
Armed with a Masters degree in Philosophy and a compelling argument, Luke Warren dedicated over a decade of his life to grassroots politics. Then he decided board games were more fun and joined North Star Games. By the way... if you are wondering if anyone has said to him, "Luke, I am your father", yes, yes they have. Many times - So just stop it!
North Star Games offer
several games
including a regular version of Wits & Wager. We have been playing the
Wits & Wager family edition
and it retails for $19.99. It can be purchase online at places like
Amazon
or find a
retailer
in your local area. Right now it is on sale for $15.23 on Amazon.
There were 100 Crew members who have been playing so sail on over to the
Crew Blog
and see what other families thought about Wits & Wagers.

As a member of the TOS Crew I received Wits & Wager Family edition free of charge to use with my family in exchange for my review.