I never knew teaching Latin could be so easy!! We received the first 10 lesson of Visual Latin from
Compass Cinema
to review. As soon as we completed the first lesson my girls wanted to do more. Every day they asked to do Latin first and they would beg to complete more than one lesson at a time.
The
High Definition (HD) m4v videos we received for iTunes works great on my IPhone and computer. Every lesson contains three short videos with a worksheet for each and it only takes about 20 minutes to complete them both. Dwane Thomas does an excellent job of keeping the kids attention with his humor during the video. The short lesson really helped my kids remember what they were taught. The focus is more on reading Latin than just memorizing words.
Visual Latin is different than most curriculum because they believe:
It's better to make students laugh than yawn.
Shorter videos teach more effectively than longer ones.
Small successes lead to big successes.
Children like reading Latin more than memorizing it.
The lessons are set up the same.
Lesson

Part A ~ Dwane gives a video lesson on Grammar. They are so easy to follow along and understand. He even goes over definitions of English parts of speech. Our worksheet contains any vocabulary words or rules that we just learned.
Part B ~ The words we learned in part A are used in sentences. We continue to use the new words or rule on the worksheet.
Part C ~ Dwane reads us a story in Latin, then rereads it one sentence at a time so that we can repeat after him. After a few lessons he only speaks to us in Latin. The worksheet contains the story and the student translates it into English.
Visual Latin has 30 lessons in the first level and can be purchased as a download or DVD. You can purchase 10 lessons at a time for
$25.00 as a download
or
$30.00 on a DVD
. All 30 lessons can be purchased on a
DVD for $80.00
. This includes all the worksheets you will need to go with the lessons. The first 2 lessons plus 4 intro lessons can be downloaded for
free
.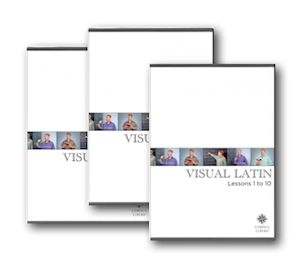 Two homeschool dads had the idea for Visual Latin. One was a Latin teacher and the other a producer. Dwane Thomas has been teaching Latin for 15 years, and you can tell he loves his job. Thomas Purifoy, Jr. is the producer and likes to create curriculum. Together they came up with a
different approach
to Latin that works.
This program is very easy to use. There is no teacher preparation needed & you do not need any knowledge of Latin before beginning. You can learn right along with your students.
Sail over to the
Crew Blog
and read what other members thought about Visual Latin.

As a member of the TOS Crew I received a free download of the first 10 lesson of Visual Latin to use with my children in exchange for my review.