Games, Games, Games!! We love games & we are reviewing a lot of them this year on the Crew. This time we received the
Scrubble Cube
. This cube is like Scrabble and the Rubik's Cube in one. The website describes The SCRUBLE Cube as a word game and a puzzle- on steroids with
over
7.4 x 1045(that's 7,401 septillion)possible configurations that anyone who can spell can play.
The Scruble Cube contains 96 rotating letter and scoring squares. Each letter has a number which will be used for scoring. Each word you make must have 3 letters and you add up the number on each letter for your score. If you can put a bonus word score at the end you can double or triple you points. Bonus points are also awarded if you wrap a word on at least 3 sides or play off your opponents word. This cube can also be played as a puzzle by trying to get the color coded tiles to spell "Scruble Cube". This game can be purchased for

$24.95

and is recommended for 1-4 players ages 8 and up. The game comes with 1 Scruble Cube, sand timer, scorepad, and instructions. The

website

offers some great tips for getting started and some fun lesson plan activities.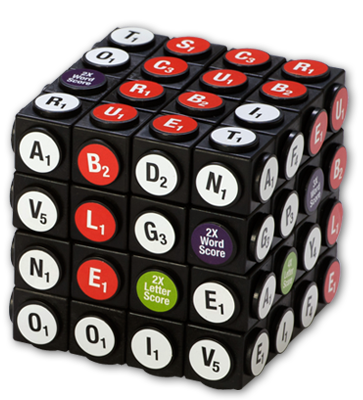 All three of my girls played with the cube. Amber (10) & I enjoyed it the most. Delaney (9) liked playing by herself and Alaina (6) only made 2 letter words, but it's a start. We didn't use the timer but it would be nice to use if the game is played with adults or all older children. I left the cube out on our school table and the girls would pick it up throughout the day and find a couple of words before finishing their lessons. One thing we really liked about this game is that it is great for travel. We received ours the day before vacation so we took it with us on our 3000 mile round trip.
If you like word games you will want the Scruble Cube. I showed it to my friend who loves Scrabble and she said she has to have one.
Sail over to the
Crew Blog
and read what other families thought of Scruble Cube.
As a member of the TOS Crew I received Scruble Cube free of charge to use with my children in exchange for my review.