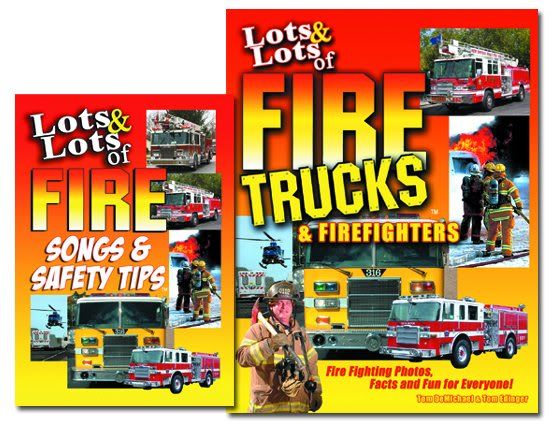 ♪♫ Call 911 And Help Will come ♫♪
♪♫ Don't Be Afraid It'll Be OK ♫♪
♪♫ You Call 911 And Help Will Come ♫♪
♪♫ Don't Be Afraid Help We Are On Our Way ♫♪
I don't know if it is a girl thing or if all kids act like this but when my girls get a catchy tune in the heads they sing it all day!! They have been singing
Call 911
after viewing Lots and Lots of Fire Songs & Safety Tips DVD.
The TOS Crew received 2 items from
Marshal Publishing & Promotions, Inc.
One group received George Washington Carver His Life and His Work DVD and the second group received Lots & Lots of Fire Songs & Safety Tips DVD and Lots and Lots of Fire Trucks & Firefighters book. We were one of the lucky ones and received both of them and you can read my review of George Washington Carver
here
. All three of my girls ages 6, 9, and 10 participated in this review.
The Lots & Lots of Fire Songs & Safety Tips DVD
has a lot of catchy tunes that my kids loved. We got to see huge selection of firefighting and rescue equipment in action. We really needed to review our fire safety tips that were included in the video. This 30 minute DVD can be enjoyed by everyone no matter what age you are. It's not every day that we get to see firefighting equipment in action.
Lots & Lots of Fire Trucks & Firefighters book
is wonderful. This 124 page book is full of brightly colored pictures of fire and rescue equipment & vehicles, firefighters in action, and even food that firefighters like to prepare while at the station. Firefighter Joe is our host throughout this book and he shows us all the clothing that a firefighter wears and explains their tools & equipment. This book not only talks about firefighting, tools, safety tips, and prevention but they also cover the science of fire which I have never gone over with my girls. In the back of the book there is a timeline of firefighting, a complete list of museums in the United States, fire related websites, and all the lyrics to the songs on the DVD. Amber wants to make all the of Firefighter Joe's Firehouse Recipes that are included in the book.
The regular price for both the book & DVD is
$49.95
. I have a coupon code so that you can get both the book & DVD for $19.95. That is a huge savings and well worth the price!!
Use Coupon Code: TOSC1
Marshall Publishing and Promotions, Inc
.
is a media publishing organization. Their goal is to provide media fun for everyone through DVD's, books, CD's, CD-roms, and broadcast and Internet programming that will entertain and educate everyone from ages 3-93. They offer a wide variety of materials including Animals, Monster Trucks, Jet Planes, and Education Historical Documentaries. Available now - DVDs in Spanish.
Sail over to the
TOS Crew
blog to read more reviews of Lots and Lots of Fire Trucks and George Washington Carver DVDs.

I received Lots and Lots of Fire Trucks book and DVD free of charge to use with my kids in exchange for my review.