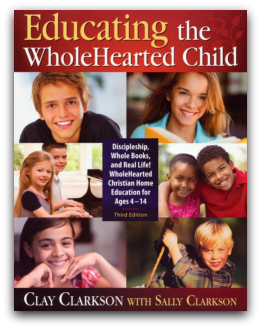 A few months ago I introduced you to the book
Read For the Heart
by Sarah Clarkson. I think it is a must read for every parent. So when I found out I was getting to review Educating theWholeHearted Child written by her parents, Clay and Sally Clarkson, I was very excited to read about their success.
Clay and Sally Clarkson started homeschooling in 1988 and started Whole Heart Ministries to encourage Christian parents to raise wholehearted Christian children. They have been blessed with four homeschool graduates.
Educating the WholeHearted Child is not meant to be an educational program as if they have the only right way of homeschooling but to give you a larger vision for what God can do in your home and provide a model of home education.
This 378 page book is in it's third edition and covers the Christian Home, Learning, Methods, and Living WholeHearted. I especially like their 12 pillars of WholeHearted Learning. Throughout the book they get more personal when they share with us how things are in their home. The resource section contains several pages of the Clarkson family's favorite books plus there are forms to help keep track of you WholeHearted learning.
In this book you will discover how to:
Make your home and family the heart of your children's education.
Train your children to become creative, self-directed learners.
Enrich life and education with living books.
Identify and work with each child's learning style
Help your children love to learn as naturally as they love to play.
Gain confidence to teach with practical, commonsense methods.
This book is a great encouragement for every homeschool family regardless of how many years you have been homeschooling or if you haven't started yet. It is so good to see success stories in homeschooling.
Educating the WholeHearted Child can be
purchased
from Apologia ministries for $22.00. The
table of contents
can be viewed and the
first chapter
read at Apologia Ministries.

Apologia
is a family-owned corporation with the mission to help homeschooling families learn, live, and defend the Christian faith. They offer a wide variety of products in their endeavor to help us.
Sail over to the
TOS Crew Blog
and read what other crew members thought of Education the WholeHearted Child.

As a member of the TOS Crew I received Educating the WholeHearted Child free from Apologia in exchange for my review.