We all have to eat. No matter if you work or stay home we all have days where we are at a loss for what to fix for dinner. E-mealz makes dinner planning easy.
E-mealz
is an online menu plan that is based on your grocery store sales. It is $15.00 for a
3-month subscription
.
Once you log in it only takes 3 steps to have dinner on the table for a week. After you create your account you can choose a plan that fits your needs. You will have accesss to this weeks menu and last weeks menu. When you print you get 2 pages one is a complete shopping list and the other is the meal plan.
You can choose a menu plan by your grocery store, if you are on a budget, on a specialty diet, if you have a picky family, or if you cook for only 1 or 2.
The meal plan contains the menu for 7 meals plus the recipe all on one page.
The grocery list has all your ingredients listed according to catagory. There is a spot to check off the item once you have it, the price, and the meal number that the item is used for is also listed. Things that you normally have on hand are listed at the bottom such as condiments, eggs, and butter.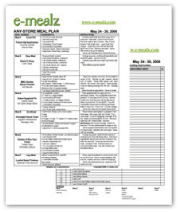 I chose the Wal-mart Menu Plan since we live in a small town and we don't have the other grocery stores locally. It was nice to actually have a plan for our dinners. I normally fix whatever I feel like making or whatever the kids or my husband have requested. It even forced us to try some different meals that we might not have tried if we were just browsing for new recipes. This plan is for a family of 4-6 and the recipes worked out perfect for my family 5.
The recipes are very easy to follow. One day I wasn't feeling good so Amber my 10 year old decided to make dinner. She chose Beef and Veggie Chow Mein from the weeks menu and it was nice because we knew we had everything she needed. She didn't have any trouble following the directions and dinner was delicious. We will definatly be making this one again.
I am very frugal with my grocery budget and I do not shop or cook the way the meal plan is suppose to work. My husband plants a big garden every year and I can and freeze it to use throughout the year. We buy our beef and chicken from ranchers and I buy as much stuff as I can in bulk instead of buying only what we need for that meal. I typically stay away from boxed foods and I like to make my bread from scratch.
After printing my Menu I checked off everything I already had at home or that I would replace with a homemade version (breadsticks, rolls, flat bread, etc). I didn't have a lot left on my list. I had no trouble finding the items I did buy but I found that our Wal-mart was a little higher than the price they had listed on the shopping list. That is probably becuase we live in a smaller town and we don't have the competition of that in a big city.
Jane Delaney
, wife and mother of 4, founded E-Mealz 7 years ago with her sister Jenny Cochran, mother of 3. They credit the inspiration to their mother who fed her own family on a budget with her own meal plan. The motivation came from Jane struggling with feeding her own family every night at home.
The concept of the E-mealz is great but I feel if we ate and shopped the way this meal plan is set up we would spend more money on groceries than we do now.
Other Crew member reviewed different meal plans so sail over to the
TOS Crew blog
to see how e-mealz worked for their families.

As a member of the TOS Crew I recieved a free 3 month subscription to e-mealz in exchange for my review of their plan.