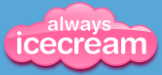 What girl doesn't like ice cream and cute little pets? My girls certainly do and that is why Always Icecream is such a big hit at our house. The only downfall is every time the girls logged in they wanted ice cream.
Always Icecream
is an online play and learning website for girls ages 7-12. Each girl has her own account and you can set up a parent account to keep track of each girls progress. It is a very
secure online site
because all memberships are traceable. After the trial period members are asked to provide a credit card which identifies the player.

The
parent account
gives details of your daughter's learning progress, see which videos she watched, select games that she can play and award her scoops. You can chose to receive email updates of your child's progress.
The first thing your daughter can enjoy is setting up her avatar and answering a few profile questions so others can get to know her. Each girl is given a friendship code that can be used to connect with real world friends (RWF). If 2 girls know each others code they can become RWF and chat online while playing Always Icecream. All the messages are moderated before being published. There are educational games in math, language arts, science, history, geography, music, art, foreign language, religious education, computer and life skills.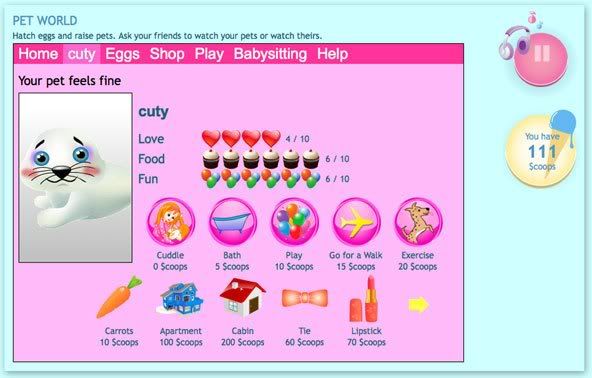 All three of my daughters ages 6, 9, and 10 enjoyed Always Icecream. They all agreed that their favorite part was taking care of their eggs and animals. A new egg could be purchased with scoops they earned while playing the games or awarded by their parent. My 10 year old made sure that her sisters remembered that mammals do not hatch from eggs, but they were very excited when their new pet hatched. The scoops that are earned can also be used to decorate homes in Miniworld.
Always Icecream subscriptions
are available for girls 7-12 and can be purchased monthly for $4.99, 2 months for $9.98, annually for $29.99, or a lifetime membership for $99.99. The first month is only .99¢. If you are not sure it is right for your daughter she can try it
free
.
Swenja and Johannes Ziegler are co-founders of Always Icecream and are parents of five children.
Sail over to the
TOS Crew Blog
and see what other Crew member's thought of Always Icecream.

As a member of the TOS Crew I recieved a lifetime membership for one of my children to use in exchange for my reivew of this website.