Last year we
reviewed
Time 4 Learning
and Amber has asked me off and on all year if she could continue her subscription. When I found out that the TOS Crew was offered Time 4 Learning again this year Amber was so excited.
The first day she logged on to Social Studies and really enjoyed the lesson The Olmec Civilization. She finished the whole section in one day and did a great job on her clay sculpture. She made the clay by herself exactly like the directions said and copied her sculpture from the picture.
I think she did a great job!!
I used Time 4 Learning with Amber (10), Delaney (9), and Alaina (6). Amber and Alaina loved the program and would ask to complete more each time they logged in. They knew exactly what they needed to complete and had no trouble finding where they needed to be the next time. As with some curriculum it is not for everyone. Delaney doesn't like sitting in front of the computer for long periods of time, she enjoyed the work that she completed while working on Time 4 Learning, but she didn't want to compete more than I asked her to.
Time 4 Learning is an online educational program for PreK-8 grades. It's great for summer time, after school or for homeschool. Each child has their own login to complete their work. Once they log in they can choose which subject they would like to complete. Then they will choose their lesson. The icons for each lesson go in order from left to right. This makes it very easy for the child to log in and know exactly where they left off.
As the teacher or parent you have access to all the lessons and can assign ones that you would like your child to complete.
The progress report can be viewed for each child. It is very easy to see the grade because they are color coded.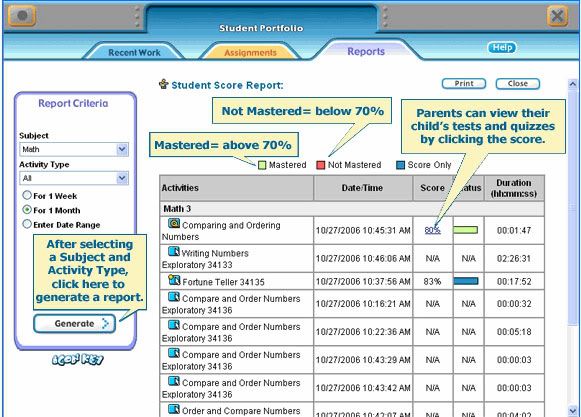 If you sign your child in a grade level and realize it is too hard or too easy they can switch back and forth from the grade below or above the current level. Time 4 Learning has a great
getting started guide
to help you get the most out of their program.
Time 4 Learning is available at a
montly fee
of $19.95 and $14.95 for each additional student. They offer a 14 day money back gaurantee and you may cancel at anytime. The curriculum for each
grade level
is available to help you decide where to place your child.
Demos
are available for different grade levels.
Sail over to the
TOS Crew Blog
to read other Time 4 Learning reviews.

As a member of the TOS Crew we received a trial subscription to Time 4 Learning for all three of my girls free of charge in exchange for my review of their product.