~~AIMS~~
Activities
Integrating
Science
AIMS Educational Foundation
provides hand-on Math and Science curriculum with manipulatives and labs for grades K-9. The TOS Crew was offered 5 different titles from their catalog. We received the
Earth Book
plus a CD that is recommended for grade 6-9, and can be purchased for $49.95.
I used the book mainly with Amber, grade 6 & Delaney, grade 5. Alaina joined us and she loved the mini books. There is so much information in this book but it is taught in such a way that it was easier for my girls to remember. The very first lesson was Accounting for Water. We went to South Carolina last week and visited the ocean and some swamps. Amber had to make sure everyone knew the percentage of water on the earth and how much is salt water & fresh. The Teacher pages are great for homeschool families. Every thing you need to know, prepare and discuss is listed there.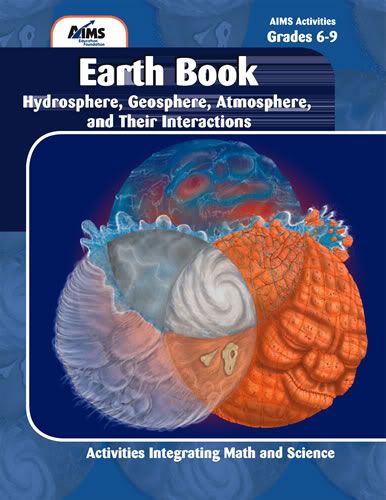 The Earth Book is divided into 4 sections: Hydrosphere, Geosphere, Atmosphere, and Their Interactions. There are 481 pages in the book with all the worksheets included on the CD for easy printing. The topics within each section are presented in the same way throughout the book. The Teacher page tells you exactly what to do.
Topic
Key Question
Learning Goals
Guiding Documents
Math (category applied during activity)
Science (category applied during activity)
Integrated Process
Materials Needed
Background Information
Management
Procedure
Connecting Learning
Setup Instructions
A copy of the student pages are after the teachers. Some of the activities are worksheets, timelines, event cards, graphs, maps, labs, and mini books.
AIMS Educational Foundation
started in 1981 when 80 teachers came together because they wanted to give students a strong hands-on foundation in math and science. Teachers loved the first AIMS activity book and students learned more. They are a non-profit organization because they believe in educating the student instead of making money. The foundation was founded by
Dr. Arthur Wiebe
and is located on the campus of Fresno Pacific University
The Crew was offered 6 different Math and Science titles for grades K-9. Sail over to the
Crew blog
to read reviews all 6 products.
As a member of the TOS Crew I received Earth Book free of charge from Aims Educational Foundation to use in our homeschool in exchange for my review of the curriculum.