We have a new game, and it is also our first
TOS Crew
review of the year. We love to play games at our house and Alaina loves pigs so when we were offered the game
Flea Circus
or
Pig Pile
from
R & R Games
I knew we would want to try Pig Pile. It was a big hit!!
I have a coupon code for 20% off any purchase from R&R Games (see below for details).
Amber (10), Delaney (9), and Alaina (6) and I all had a good time playing the game. The first time we played the game Alaina was ahead the whole time & once all the girls had a few pigs they got silly. They played with the pigs, made pyramids, used the domino effect, and got the giggles.
The person with the most pigs at the end of the game wins. After each hand you collect 3 pigs if you win the hand, 2 if you come in second and 1 if you are third. To win a hand you need to get rid of all your cards, but you have a better chance of getting a Hog Wash (clear away all the cards in the discard pile) if you have more cards. Just when you are getting low of cards and think you might win the hand you may have to pick up the Pig Pile (discard pile) because you don't have a card that you can play.
The dealer gives each person 7 cards to hold in their hand, 3 cards face down (Slop Cards) in front of them, and 3 cards face up above their Slop Cards. There will be one discard pile (Pig Pile) and one Draw Pile. The players take turns by placing one or more cards on the Pig Pile, they must be equal or bigger than the card that is already there. Once the player is out of cards in their hand they will play from the 3 face up cards and then the Slop Cards are played last.
The girls had so much fun playing with their pigs while we played the game.
They even played with the pigs when we weren't playing the game. If you stand them up you can knock them over like dominoes.
Pig Pile is a card game recommended for 3-6 players, ages 7 and up. It comes with 80 cards, 40 pink pigs, and a rule book for $15.95. It can be
purchased from R&R Games
for $15.95.
Recieve 20% off any purchase from R&R Game website before the end of the year.
Use Coupon Code: CREW20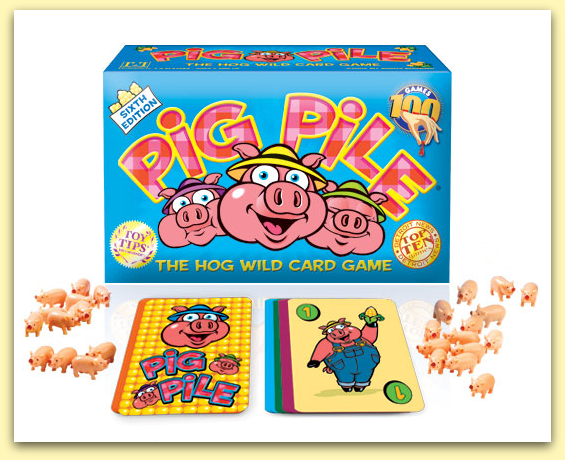 R&R Games, Inc. began as a fun forum for friends and families to gather. It started with the game Riddles & Riches created by Frank DiLorenzo it was such a big hit that he decided to design, invent and create games full time and now they offer family, party, and stratagey games
Their Mission is to produce high quality family board games so that we can play around all the time. Fun games. Challenging games. Big games, little games, games that climb on rocks... (Oh wait, that's something else...)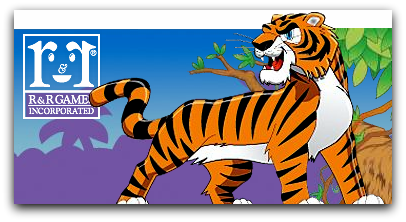 Sail over to the
TOS Crew Blog
to read what other members thought of Pig Pile and Flea Circus.
As a member of the TOS Crew I recieved Pig Pile free of charge from R&R Games in exchange for our use and review of their game.